Configuration switches
All switches are hardware controlled and a change to any switch setting is effective immediately.
Configuration switch functions
 Switch number

 Function

 Switch position

 Description

 1

 HALT polarity

 UP

 DOWN

 HALT active HIGH

 HALT active LOW

 2

 Head LED control

 UP

 DOWN

 External control via PICS

 LED mimics SYNC

 3

 STOP disabled

 UP

 DOWN

 PI 200-3 ignores PICS - STOP

 STOP asserts HALT/SYNC

 4

 SYNC polarity

 UP

 DOWN

 SYNC HIGH and SSR closes on trigger

 SYNC LOW and SSR opens on trigger

 5

 Audible indicator

 UP

 DOWN

 No beep on trigger

 Indicator beeps on trigger

 6

 Debounce time

 

 Selects SYNC debounce time

 7

 Debounce mode

 

 Selects SYNC debounce mode

 8

 Zero debounce

 UP

 DOWN

 Sets debounce time <2 ms

 Debounce set by switches 6 and 7

 9

 Probe signal filter

 UP

 DOWN

 Filter active

 Filter off

 10

 Trigger level

 UP

 DOWN

 Trigger level 2 selected

 Trigger level 1 selected

 11

 PDAMP / HALT filter delay

 

 Coded to select delay time

 12

 PDAMP / HALT filter delay

 

 Coded to select delay time

 Refer to table 3

 13

 Probe polarity reversal

 UP

 DOWN

 Reversed

 Normal
Switch 1:
Inverts the polarity of the HALT output.
Switch 2:
Selects control of the LEDOFF output to either internal PI 200-3 control according to the status of SYNC, or sets the output to high impedance for control of the head LED by external switching.
Switch 3:
Sets the PI 200-3's response to STOP when asserted from an external source. When enabled, the PI 200-3 will assert SYNC, HALT and open the SSR relay.
Switch 4:
Inverts the polarity of the SYNC and SSR relay outputs.
Switch 5:
When enabled, a tone will sound for approximately 160 milliseconds when the probe triggers and SYNC is asserted. When disabled, the tone will activate only when the stylus has remained deflected for 10 seconds.
Switches 6 and 7:
These switches select the debounce time and mode of operation.
Switch 8:
Overrides the settings of switches 6 and 7, reducing the trigger and reseat debounce times to less than 2 milliseconds.
Switch 9:
The probe signal filter has a 300 μs time constant to reduce the effects of stylus vibration when the stylus makes contact with the workpiece. Renishaw recommends that this switch is set to the UP position for normal use.
SYNC debounce options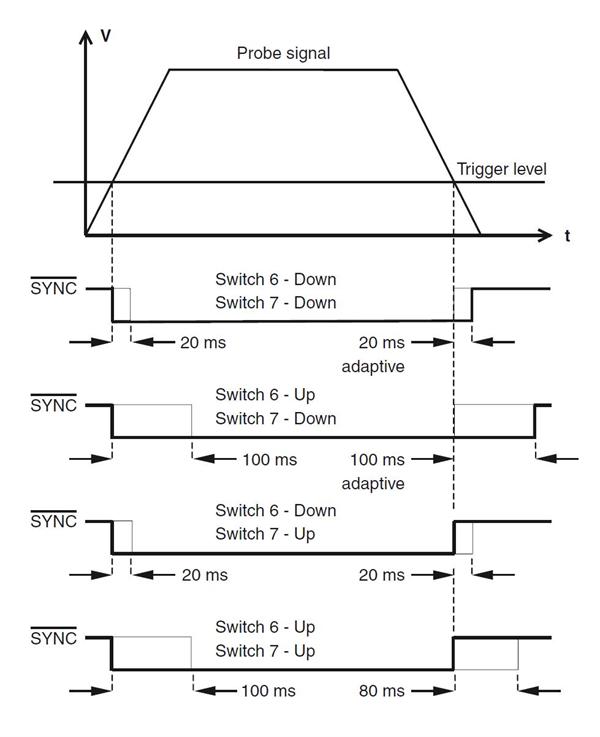 Switch 10:
In operating situations where there is an unusually high level of background vibration, it may be necessary to reduce the sensitivity of the TP200 to avoid false 'air' triggers. These may occur on some types of CMM when large steel stylus arrangements are used or where the CMM is inadequately isolated from the floor transmission of vibration from nearby machinery or vehicle traffic.
|   |   |
| --- | --- |
|  Trigger level 1 |  Is the highest sensitivity mode and provides the best measuring performance. |
|  Trigger level 2 |  Reduces the vibration sensitivity from level 1 for a small loss of measuring accuracy. |
CAUTION: All stylus tips must be requalified if the trigger level is changed.
Switches 11 and 12:
To prevent a HALT signal (or HALT and SYNC if probe damped mode is set) from being falsely asserted when the probe is subjected to vibration, a time delay filter is applied.
If a collision occurs at fast traverse speed (i.e. a position move), the filter delay time will incur additional CMM overtravel before motion stops. It is important that the CMM motion can stop within the available overtravel, particularly if collisions can occur directly along the main axis of the probe in the +Z direction. To minimise the overtravel in a collision situation, the filter delay time must be set to the shortest possible time that will prevent 'air' triggers from occurring during fast traverse moves when probe damped mode is asserted.
Switches 11 and 12 are used to select the nominal filter times.
Function of switches 11 and 12:
| Time delay | Switch 11 | Switch 12 |
| --- | --- | --- |
| 2 ms | DOWN | DOWN |
| 7.5 ms | DOWN | UP |
| 15 ms | UP | DOWN |
| 50 ms | UP | UP |
Switch 13:
|   |   |
| --- | --- |
|  Correct polarity |  Down |
|  Inverted polarity |  UP |
The TP200 probe is polarity sensitive and must be connected to the PI 200-3 such that the centre contact of the M8 connector is positive and the thread is ground (0 V). A reversed polarity connection will cause the POWER and STOP indicators to be illuminated on the front panel.
Sliding the switch to the REV position should allow normal operation. Incorrect setting of the polarity switch should not damage the probe.
When the PI 200-3 is added to the PHC10-3 PLUS, the STOP light will flash at approximatly 3 Hz. All PI 200-3 interface LEDs should be OFF.