3D measuring performance
To standard ASME B89.4.1 – 1997 for point to point measurement.
Typically, the 3D measuring performance (spherical characteristic) is better than 2 μm. This means that no matter from which direction the probe triggers, the maximum error will be less than 2 μm when standard qualification techniques have been employed using styli up to 50 mm long.
The 3D measuring performance of the probe considers the following sources of probe error:
Unidirectional repeatability
XYZ pretravel variation
Stylus ball sphericity
The table below only applies to TP7M with the additional styli:
Typical performance data for TP7M probe
The following information provides examples of the expected measuring performance of the TP7M when using M2, M3 and M4 styli in accordance with the stylus selection guidelines given earlier in this document.
In all cases, the 'contour' lines show probe performance figures using straight or right-angled stylus configurations.
For the configuration shown, where M2-M3-M4 adaptors and M2 styli are used, the expected measuring performance from the probing system would be within ± 1.5 μm.
TP7M using suitable M2, M3 and M4 adaptors and M2 styli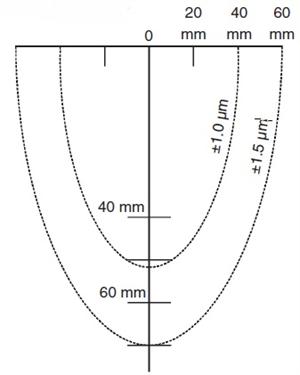 TP7M using suitable M3 and M4 adaptors and M3 styl