TP20 stylus modules
PH20 has an integrated TP20 body that is capable of touch-trigger measurement when used with a suitable stylus module. The probe design utilises the existing range of the TP20 stylus modules, however the TP20 extended force module is not suitable for use on PH20.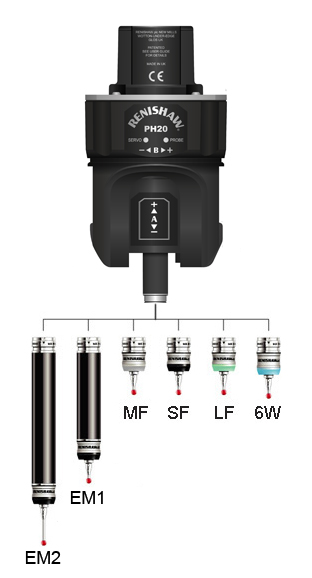 Each probe module, which houses the kinematic switching touch sensor mechanism, carries the stylus assembly and provides overtravel in the X, Y and +Z axes (–Z is offered when using the TP20 6-way probe module). Incorporating an M2 stylus mounting, each probe module is compatible with Renishaw's comprehensive range of M2 styli.
Designed to minimise the possibility of probe module misalignment generating a probe 'seated' signal, the probe module is held in position by a magnetically retained, highly repeatable kinematic coupling. Electrical contact pins conduct the probe sense voltage through the coupling.
Trigger force options
The standard force probe module is suitable for most applications (when used with the recommended stylus range), but sometimes the effects of stylus length and mass, combined with machine acceleration and vibration, can cause the probe to false trigger (these are referred to as 'false triggers').
To allow the PH20 to be used on co-ordinate measuring machines where acceleration forces or vibration would otherwise result in spurious triggers, a choice of higher force probe modules is available. A low force probe module is also available for measurement of delicate materials. Refer to the applications guide later in this document for information on how to select the correct probe module for your application.
The type of probe modules supplied with your probe will be clearly marked on each probe module's front ring. The probe modules also carry a colour-coded front cap as follows:
Low force (LF) probe module (green cap)
Standard force (SF) probe module (black cap)
Medium force (MF) probe module (grey cap)
6-way (6W) probe module (blue cap)
Extension module 1 standard force (EM1 STD) (black cap)
Extension module 2 standard force (EM2 STD) (black cap)
NOTE:The extended force module is not suitable for use with the PH20 system.
TP20 module kits
The following TP20 probe module kits are available from your supplier for use with PH20:
|  TP20 probe module kit (probe module only) |  Part number |
| --- | --- |
|  Low force probe module |  A-1371-0392 |
|  Standard force probe module |  A-1371-0270 |
|  Medium force probe module |  A-1371-0271 |
|  6-way probe module |  A-1371-0419 |
|  EM1 STD probe module |  A-1371-0430 |
|  EM2 STD probe module |  A-1371-0431 |
|  EM1 STD and EM2 STD probe modules |  A-1371-0432 |