Pin allocation
With the red dot on the LEMO pointing upwards: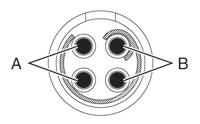 'Pair A' - Top left pin and bottom left pin
'Pair B' - Top right and bottom right
NOTE: Ensure the sensor is connected to the controller with one pin from 'pair A' and one pin from 'pair B'.
Sensor resistance checks
A resistance check test is recommended:
During system installation once all sensor cabling has been completed
After every hardware change to the system (e.g. sensor, cable or switch change)
Every six months, after the system has been commissioned, to check for any sensor failure or cabling issues
Resistance check procedure
Regulate the temperature of the CMM room to a constant temperature between 16 °C and 28 °C
Allow the CMM to stabilise thermally for a minimum of one hour
Measure the sensor resistance from the 37-way D-type socket that the sensors are wired into. This is the resistance that the UCC measures (cable plus sensor resistance).
All workpiece and axis sensor resistance measurements should be within this range; 8.4 kΩ < R < 15.7 kΩ
Best practise for using the thermal compensation system
Ensure the CMM is not subjected to unnecessary changes in temperature (fans blowing, close to radiator, in direct sunlight or any other powerful radiant sources)
Excessive humidity should be avoided
Use the system as close as possible to the calibrated temperature
Renishaw recommends that workpiece and axis sensors are verified at six month intervals