Wide selection of framework materials
Realistic™ translucent zirconia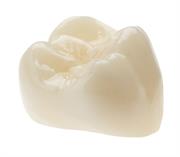 High translucency allows full contour designs to be created without the extra cost of porcelain  application. A quick stain and glaze finish allows you to achieve your desired characterisation.
Popular with dentists, kits are readily available for minor in-chair adjustments. Say goodbye to porcelain fractures.
Zr100™
The highest quality isostatically pressed zirconia is ideal for crown and bridge frameworks up to 8 units, available in a choice of three shades plus bleach. High strength and excellent porcelain adhesion combine to give great aesthetics.  
LaserPFM™
An ideal alternative to cast or machined semi-precious or non-precious crown and bridge frameworks; fixed price per unit and made from traceable CE marked material. LaserPFM frameworks are made by 3D printing, a high-tech laser melting process which builds the framework layer by layer.
PM100™
This temporary PMMA material is available in four shades giving a choice to match each case.
WX100™
This investment wax material is specifically designed to burn out cleanly and saves you the time spent waxing up by hand.