3D laser scanner hire
You can hire our 3D laser scanners and other systems, including Fanbeam.
Mining and mapping 3D laser scanner hire
Whether for a specialist, short-term project, or to help you evaluate the business benefits 3D laser scanning can bring to your operations, our 3D scanner hire service is designed to support business of all sizes and types, by bringing you the benefits of data acquisition without the need to purchase a system.
To hire or to purchase?
For many of our customers, our laser systems become an essential aid to completing work, on a weekly or even daily basis. For them, buying represents a good value investment, with larger customers often sharing equipment between teams or sites, and seeing benefits on multiple projects over many years.
There are times when 3D laser scanner hire supports your short-term business goals, and we're happy to offer Quarryman, Boretrak, Dynascan M250, C-ALS and Void Scanner for short or long-term hire for a range of scenarios, including:
Trial the benefits of 3D laser scanning
Take on additional work at busy periods
Replace equipment that is damaged or being serviced
Evaluate the performance of our systems
One-off projects
When staff are absent, and you need an easy-to-use system that non-surveyors can use
When you do not have trained staff and wish to hire our equipment with an operator
The process
Contact us, giving as much detail as you can regarding the following:
System of interest
Hire start date and duration
Your location
Type of work being undertaken (so we can advise on suitability of our 3D laser scanners or other systems)
Any training requirements you have
We'll give you a quotation, which will also list any recommended accessories.
We'll send the scanner out to you, with manuals, software and accessories.
You can now complete your projects, quickly and accurately, and with a fixed-price cost, which helps you in putting quotations together or planning projects.
If you need to extend the hire, just let us know. Or, if you wish to purchase a system, we can often offer special deals on ex-hire equipment.
Example projects
A selection of projects where 3D laser scanner rental has enabled successful completion of surveying tasks.
New open-cast mine site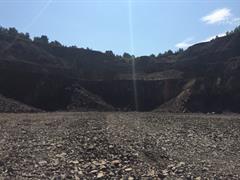 A small quarrying company acquired a new open-pit mine site, which had been owned by a competitor but never made operational. The company wished to map the area, so that they could plan roads, installations and infrastructure, and so that they keep local residents informed of developments, since there had been some concerns locally about the impact of works on a local housing estate.
The company hired a Dynascan unit for a single day, providing a very cost effective way to gather data on the entire mine site. Since Dynascan can be mounted on any quarry vehicle, and does not need to be used by a surveyor, additional costs were minimised.
The company also used Renishaw's data processing services, so that they had drawings and digital terrain models, which could be used to share plans with stakeholders. They subsequently chose to hire a Dynascan unit again for two separate days at key stages in the development of the mine site.
Coastal mapping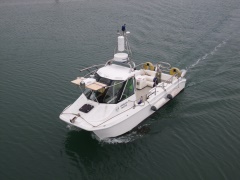 A heritage organisation wished to survey a medieval castle, which was situated on a stretch of coast under threat of erosion. Despite having the castle in their ownership for many years, it had not been subject to a full survey for several years.
The organisation was aware of some areas of storm damage (eg further damage to arches) and wanted to be able to establish the exact condition of the building at a point in time so that any further deterioration could be monitored and in support of funding applications to help with the cost of preservation.
The heritage organisation employed a local surveying company, who were able to use their existing equipment to carry out a survey of three of the building's sides. It was not possible to survey the building's fourth (sea-facing) side from land, and a Dynascan unit was hired for one day, mounted on a vessel belonging to the heritage organisation, and used to complete the building survey in 3D.
The data from Dynascan could easily be combined by the surveying company with their land-captured data, to give a full and accurate map of the entire building and its surrounding topography.
Construction work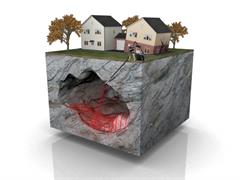 Before starting work on a new housing development, a construction company wanted to investigate historic mine workings lying beneath the surface. Historic maps revealed that mines existed in the area, but their extent, location, depth and shape were unknown, since the maps were thought to be incomplete.
The construction company wanted to assess the risk of subsidence and any limitations on construction processes or health and safety issues for workers.
The company wanted to be able to gain accurate quotes from groundworking sub-contractors, by ensuring that all relevant information was available at the invitation to tender stage. Finally, they wanted to be able to give potential house buyers detailed information on the land, to avoid queries being raised by house surveys in the future.
Hire of 3D laser scanner C-ALS for a two-week period gave an extremely cost-effective way to map the underground sites. The speed of deployment (involving borehole drilling, and repeated scans taking minutes only), and the fact that C-ALS can be used by non-surveyors minimised staff costs.
The C-ALS software provided detailed models, which was then imported into other software packages for further processing. The company had full data to show to planners, and other stakeholders, for a small investment. Hiring the scanner made sense, since, due to their geographic location and local geology, they did not anticipate building on land previously used for mining in the future.
Fanbeam 5 hire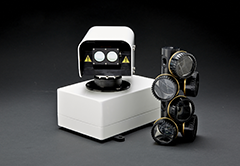 We manufacture, service and calibrate the latest models of Fanbeam, and offer laser DP reference position systems, laser units, prism clusters and control systems for hire directly or through our global network of authorised service centres. If required, we can also provide on-site engineer installation, to minimise downtime.
Hiring a Fanbeam unit can help customers:
upgrade vessel DP rating for a specific short-term project
maintain operations while sending another laser sensor for servicing
meet the tender requirements of customers for use of a laser sensor
complete specific operations
evaluate the performance of Fanbeam 5
With flexible rental periods, hire can be a cost-effective option. We also are often able to offer rent-to-buy deals, which, like all our rental units, comprise the latest Fanbeam 5 model and the latest control system, with any accessories that are needed.
Renishaw's global service centres, swift supply and installation service, precision engineering, and well-maintained rental stock give those looking for additional support on completing new projects peace of mind, while the familiarity of DPOs with the Fanbeam system ensure swift, successful operations.