3D laser scanning services
Let us do the work for you. Our trained, experienced personnel can complete work quickly and accurately to assist you on your project.
We use our rugged, accurate 3D laser scanning systems to gather detailed point cloud data, which we can use to provide maps, models, drawings or plans to you.
How our 3D laser scanning services can assist you on your project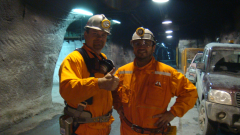 Guaranteed outcomes: Our engineers will complete the project, delivering the outputs you specify (3D point cloud, technical drawings, fly-throughs or other formats).
Quick turnaround: Our engineers can often complete work more quickly than your own teams, because they use our 3D laser scanners day-in, day-out, and have done so for many years.
Fixed pricing: We will quote you for the time we estimate to complete the project and guarantee that's the price you pay.
Expertise: From cemetries to bridges, historic castles to deserts, and including many hundreds of mine and quarry sites all around the world, our surveyors and engineers have the experience to complete any project successfully, and the enthusiasm to tackle new challenges. Since our laser systems have unique abilities to capture data in hard-to-access underground areas, in extreme environments, at sea or on land, our engineers have become adept at delivering results in challenging circumstances.
Keep your project moving: Customers often contact us because a construction venture, mine development or other project cannot continue until more data has been gathered to support decision making. Hire of our 3D laser scanners and operators enables you to keep your project moving, without losing valuable staff resource from other areas.
Recent projects
We carry out a large and varied number of projects all over the world. Our recent projects include:
Void and cavity mapping
Underground chamber and tank surveying
Bridge surveying
Subsidence investigations and collapsed mine workings
Industrial production facilities with limited or unsafe access
Underground mine mapping and open pit mine surveys
Waterway mapping and coastal surveys
Heritage and historic site mapping