A versatile lidar system developed for marine applications
Robust, flexible and simple to operate, the Merlin laser scanner has been engineered for high-performance vessel-mounted deployment in extreme marine conditions.
Developed for the marine environment
Vessel-based lidar scanning is a very different proposition to that of land-based surveying. Extreme coastal, offshore and inland surveying situations demand a laser scanner that offers robust construction, durable build quality and high levels of environmental protection from water and dust.
Merlin was developed specifically for use in these unpredictable coastal, offshore and inland waterway environments, and so its technology, construction, material selection and finishes are all tested to the highest marine grade standards.
Because every project is different, due to the scope of work and the range of data acquisition methods, Merlin's flexible mounting options are designed to help you gather scan data at different angles from the same fixed mount.
Full control of your Merlin deployment
Merlin deployment couldn't be quicker or simpler. The low-maintenance mounting system includes a custom-made mounting plate, which ensures Merlin is ready to install off the shelf, with no customisation required. The mounting plate can be either permanently welded into place, or attached temporarily to a mast or cabin roof by three simple screws depending on your application requirement.
Merlin has been designed to offer extreme versatility and flexibility while remaining simple to install. When combined with the base plate, which controls rotational movement, the device provides all the installation configurations you could ever need.
Precision design for universal configuration
A multi-position A-frame allows for precise vertical adjustment, while a custom-machined base plate controls rotational movement. Together these provide all the installation configurations you will ever need.
There's no need for specialist tools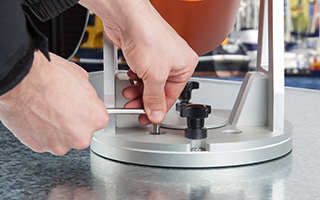 Once Merlin is in the desired position it can be fixed by hand using the simple spring-loaded tapered screws. Once Merlin is installed, no unwanted movement can take place.
Engineered for minimal noise and vibration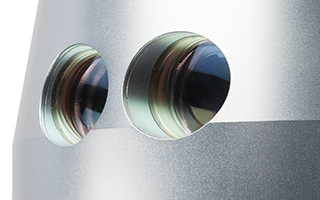 To provide the most stable and repeatable datasets possible, and low noise and vibration, the rotating laser modules are calibrated and pre-balanced to a high degree of accuracy.
Merlin is built for a wide range of hydrographic surveying applications
Merlin enhances the hydrographic surveyor's tool box by providing valued-added data acquisition on any given project. In just a single pass, Merlin can provide data in areas that were previously unreachable for bathymetric sensors. For example at low tides and in tidal zones, Merlin data can be used to infill the missing area of data from an echosounder.
Manned or unmanned
Merlin can be deployed on small shallow survey vessels, large offshore vessels, and even unmanned craft.
Shallow survey and deep-water applications
By adding Merlin to your vessel, you can complete complex projects that traditional surveying technologies simply cannot achieve. Merlin can be mobilised for applications in both shallow survey and deeper water applications, including the following:
Hydrographic surveys
Offshore construction
Coastal erosion monitoring
Navigation chart updates
Canals / inland waterways
Oilrig decommissioning
Flood-risk management
Port and harbour surveys
Rock groyne scanning
Wind farm installations
Bridge condition surveys
Clearance surveys
Downloads
Brochure: Merlin

Engineered by Renishaw, Merlin is the marine laser scanner developed specifically for cost-effective offshore and inland waterway surveying. Merlin is designed to complement your vessel's existing hardware and software infrastructure. Seamless integration with your below-water sensors, enables the fast and effective acquisition of time-tagged survey data above and below the waterline simultaneously.

Data sheet: Merlin

Detailed list of technical specifications and dimensions for Renishaw's Merlin vessel-based lidar sensor.