Cabled Boretrak®
Portable, lightweight and quick to deploy, Renishaw's Cabled Boretrak makes measuring borehole deviation simple.
Cabled or Rodded?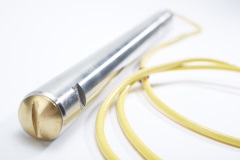 Cabled Boretrak is chosen most often for quarrying customers who want a quick and portable device for downhole deployment only.
Cabled Boretrak, as an alternative to Rodded Boretrak, is used to help achieve safer, more efficient blasts, with reduced environmental impact.
You can read more about borehole deviation, and how Boretrak works to help you address the problems caused by failure to drill to plan on our Boretrak overview page.
Portable and easy to deploy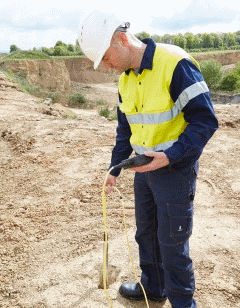 The complete Cabled Boretrak system fits neatly in a rugged 'Peli' case.
In the field, all that is required is the probe, with cable attached, and a toughened CDU to record data - that's a total weight of just 5 kg.
Cabled Boretrak deployment first involves lowering the unit to the bottom of the hole via the integral cable, which is toughened for durability. 
Users can retrieve the unit at 2 m intervals. At each interval a single button press on the CDU is required. The dual-axis tilt sensor and digital compass calculate borehole deviation at each interval.
Data is saved in the CDU and downloaded in the office via serial cable.
Cabled Boretrak is supplied with a weighted extension piece, which customers fill with lead shot or sand, to ballast the system in deep or flooded holes.
Easy recalibration
A calibration jig is supplied to allow regular in-field recalibration of the compass. This is a simple five-minute procedure.
Downloads
Brochure: Rodded Boretrak® and Cabled Boretrak®

The Boretrak borehole deviation measurement system improves safety and enhances productivity by giving you a cost-effective, reliable and portable way to measure borehole deviation in a wide range of applications.

Data sheet: Cabled Boretrak®

Detailed list of technical specifications and dimensions for Renishaw's most portable borehole deviation measurement system, the Cabled Boretrak. A dual-axis tilt sensor and digital compass also help you to calculate borehole deviation from the collar position at fixed intervals. Supplied in a single Peli-case, this lightweight, portable option enables fast deployment by a single operator.