Coastal and waterway mapping using mobile lidar scanning
Coastal and waterway surveying demands rugged equipment with the range to support rapid data capture. It's what Dynascan M250 was designed for.
Making operations easier and safer
Mapping projects carried out in the unpredictable marine environment can pose major challenges for surveyors, but Dynascan M250 enables users to complete surveys much quicker, making operations easier and safer while also producing more useful information.
Above and below the water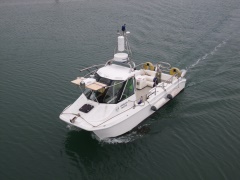 Surveyors can use Dynascan M250's incorporated hydrography software to create complete coastal datasets by combining above-ground lidar data with sonar-based bathymetric data.
The hydrographic nature of the Dynascan M250 acquisition software enables easy integration with bathymetric survey equipment for the creation of a single survey of terrain both above and below the waterline.
The 250 m range of Renishaw's mobile 3D mapping system makes it ideal for those projects that require fast scanning in locations where rocky outcrops, reefs, cliffs or a lack of landing facilities would otherwise make surveying impossible or hazardous for the surveyor and vessel.
Quick deployment
The portability of the Dynascan system means that you can switch between water-based vessels and small mobile platforms, and land-based vehicles such as 4x4s, in order to plan your surveys around tidal changes if necessary. Supplied in a single transit case, the unit can be deployed quickly and securely in order to access these extreme environments.
Marine surveying applications
Updating electronic navigation charts: Use long-range laser scanning to create and monitor navigation charts without venturing into hazardous coastal zones.
Coastal mapping and erosion: Compare old and new data to manage and monitor coastline changes.
Updating risk-management, maintenance and flood models: Use historic data to predict future events.
River and canal surveys: Scan and identify key features of canal and riverside areas to assist with urban planning.
Port and harbour surveys: Collect detailed information above and below the waterline at the same time in these busy and often highly populated waterways.
Beach erosion: Carry out detailed scans of beach profiles for maintenance purposes.
Focus on: coastal scanning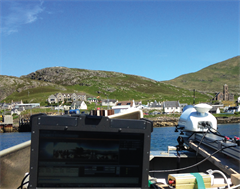 Coastal surveying work is notoriously challenging. Surveying projects for environmental impact statements, monitoring of coastal erosion, or surveying of buildings or natural formations, which cannot be accessed by road, require careful planning.
Dynascan M250 is a popular choice for coastal surveying work due to the following features:
small size and compact nature allow for quick mobilisation during limited weather windows
250 m range keeps teams safe from rocky shorelines
high-grade inertial measurement unit (IMU), consisting of gyroscopes and accelerometers, compensates for the pitch, roll and other movements of the boat
compatibility with hydrographic acquisition software allows for real-time visualisation of acquired data so that coverage and quality can be verified during the survey
the ability to move from boat mounting to vehicle mounting offers deployment flexibility
fast data acquisition means that several kilometres of coastline can be scanned in a single day, this includes mobilisation, data acquisition by vessel and vehicle, demobilisation and data download