Dynascan S250
The accuracy and speed of Dynascan S250 is ideal for urban surveying and construction industry applications.
Accurate survey-grade 3D mapping at speed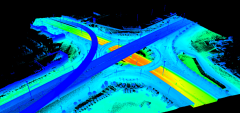 Dynascan S250 is designed to meet the need for acquisition of long range (250 m), or survey-grade (+/- 1 cm) data.
The dual-head S250 is designed for higher point density when travelling at speed, and so is ideal for use on urban or highway surveying projects.
Dynascan S250 makes it quicker than ever before to collect large quantities of data, and also enables rapid data processing and easy integration with surveying software. Dynascan software has a range of capabilities and data export formats.
Dynascan S250 has been used in a range of climates and landscapes for the following applications:
utilities surveys, including cross-country pipeline surveys
transport infrastructure surveys and highway infrastructure surveys
urban mapping, brownfield updates and revamps
bridge surveys and tunnel surveys, including bridge clearance surveys
topographic mapping
geographic information system (GIS) data collection
scanning to building information modelling (BIM), including as-built surveys of oil and gas facilities
industrial design
cut-and-fill earthworks surveys
heritage mapping
Contact us for more information on S250 availability in your country.
Downloads
Data sheet: Dynascan S250

Detailed list of technical specifications and dimensions for Renishaw's Dynascan S250 mobile 3D mapping system for land and marine applications

[174kB]
Image and video gallery