Dynascan software
With rich-featured software, easy integration with other packages, and remote diagnostics support, Dynascan makes it quicker and easier to complete your work.
Create detailed 3D maps efficiently
While laser measurement makes it possible to collect vast quantities of survey data quicker than ever before, this can often be at the cost of increased data-processing times. The Dynascan M250 and S250 systems not only measure and record millions of georeferenced data points safely and efficiently, but also use these data points to quickly create detailed 3D maps, using a variety of computer-aided design (CAD) and point-cloud processing packages.
Fully featured software
The Dynascan system comes with its own fully featured software suite, providing a user-friendly route along the scanning workflow from initial project planning and real-time 3D acquisition through to final processing, quality control and reporting. The software provides:
data cleaning and noise removal
bare earth and non-ground classification
digital terrain models (DTM) and contouring
volumetric calculations
The software has been developed with insight from our own team of surveyors, as well as our many global clients and partners. One popular feature is the replay function, which enables customers to replay data after changes have been made, without losing the original raw data. This offers operational flexibility valued by surveyors working in the field.
Easy integration
Dynascan is compatible with a range of mapping software, enabling:
vectorisation and feature extraction
preparation of CAD drawings and geographic information system (GIS) datasets
3D modelling and texturing
visualisations and fly-throughs
change detection
Dynascan software offers fast and easy integration with sonar and lidar equipment. Through the compatibility of the Dynascan system with hydrographic-based data-acquisition software, customers can carry out simultaneous above- and below-water data acquisition for swift and seamless data capture in marine environments.
Remote diagnostics for live global support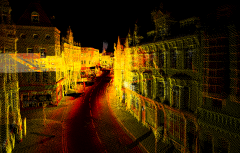 Renishaw offers remote diagnostics support, which enables one of our experienced engineers to view your screen and perform instant software and hardware diagnostics, wherever you are in the world (internet connection required).  
For ease of integration into existing workflows, data can be exchanged with third-party applications via a large number of industry-standard formats (eg DXF, XTF, GeoTIFF, GSF, BAG, ASCII, LAS).
Integration with other sensing technologies is also catered for, with the software allowing seamless acquisition from a variety of other sensors, such as a global positioning system (GPS) receiver, an inertial measurement unit (IMU), a camera system, a multi-beam echo sounder, or a side-scan sonar system.
For those customers who require it, Renishaw's team of data acquisition and processing specialists also provide a data processing service, which cuts the cost associated with hiring specialised resource, software and training.