Fanbeam® 5 upgrade packages
Fleets using older versions of Fanbeam or any other laser DP sensors, can upgrade to Fanbeam simply, quickly and cost effectively with our plug-and-play upgrade system.
Laser sensors give quick and highly accurate support to dynamic positioning operations.
What Fanbeam® 5 offers fleets upgrading from other systems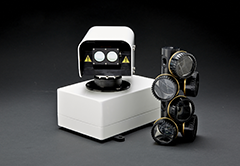 The global success of Fanbeam, since its launch in 1989, has established it firmly as the most widely used laser DP position reference system in the world today. Ongoing research and development has led to the Fanbeam 5 offering significant benefits in performance over earlier or alternative models.
The Fanbeam system offers fleets the key benefits of:
Cost effectiveness: Fanbeam is positioned to offer the best price / performance combination in the DP reference market for large and medium fleets.
Unsurpassed durability: As the original laser DP laser reference, Fanbeam has proved robust and reliable in a wide range of applications.
The Repair by Exchange service model: An immediate service resolution with a minimum of downtime and handling.
Upgrade packages
We offer a range of options, to take into account the age of previous systems and the size of your fleet. Please contact us if you would like an upgrade proposal, or wish to understand in more detail the advantages the Fanbeam 5 system offers to fleets using alternative laser reference sensors.
Fanbeam Advance
Renishaw's Fanbeam Advance is a cost-effective package that enables vessels to upgrade quickly from the now discontinued Cyscan Mk.3 to Renishaw's proven Fanbeam.
Why Fanbeam 5 is our best DP system yet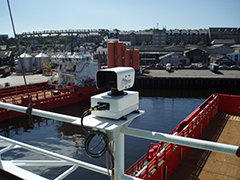 Fanbeam is so durable we know of many units which have been in use for ten years or longer. While we are undoubtedly pleased to see customers getting such value from their systems, DPOs themselves tell us they feel even more confident in operations with the new Fanbeam 5, which offers a range of features not found on earlier models. Fanbeam 5 has been designed to enhance performance across a range of applications by:
providing more information to DPOs, in an easier to understand format
providing filters to ensure optimal performance in a range of conditions
using automation to support decision-making and speed up operations
The new Fanbeam 5 features most valued by our customers are:
Automatic level filtering removes the need for operators to adjust settings in changing conditions.
Intelligent target clutter rejection makes it easier to locate and track targets, even in noisy environments.
Gyro interface makes it easier to re-locate lost targets.
Tracking confidence indicators suggest solutions to difficulties countered.
New LED back-lit custom keypad and pointer aids night-time operations.
Real-time visual representation of the laser movement is an instant guide to activity.