Fanbeam® fleet spare package
Since DP regulations have tended to increase in stringency over time, and because the failure of a position reference system can lead to a reduction in DP classification and costly vessel downtime, many fleet operators now have backup plans in case of system failure or damage.
For fleets with multiple Fanbeams, holding a spare can eliminate vessel downtime, giving an attractive return on investment and supporting proactive maintenance.
It pays to keep a spare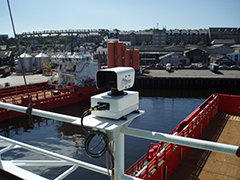 Fanbeam's intelligent design, high-quality production values and global service centres are all designed to keep your fleet working around the clock.
However, it's essential that vessel operators can schedule maintenance checks for equipment, without sacrificing the availability of vessels for project work.
Since Fanbeam can be a mission-critical piece of equipment, particularly on smaller vessels that are dependent on differential global positioning systems (DGPS) and laser for position reference, fleet operators must ensure that their position reference system (PRS) can help to:
minimise vessel downtime
support vessels in remote areas
ensure optimal equipment performance through a proactive maintenance plan
Fleet spare package
To meet the demands of fleets with multiple vessels, we've designed a specially priced fleet spare package, which can be mobilised in the event of damage or failure and, crucially, in support of proactive maintenance through equipment rotation. Fanbeam sensors are also backwards compatible with models from 20 years ago.
Includes:
Fanbeam 5 sensor
Controller 4.0
Prism cluster
Complete set of cables and accessories