Find dental CAD/CAM treasure at Dental Showcase 2009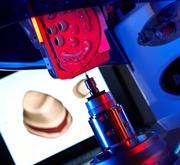 Renishaw, the world's largest supplier of in-lab CAD/CAM scanning machines (hall 6 stand Q18), will highlight its new incise™ dental milling system which enables dental laboratories of all sizes to manufacture truly low cost zirconia frameworks in-house.
The theme for this year's Dental Showcase which takes place in Birmingham, UK from 12th to 14th November, is 'Treasures of Dentistry', and visitors will see that Renishaw's new dental milling system can produce single copings, custom abutments and bridge frameworks of up to 8 units in size. Together with Renishaw's central milling option, dental laboratories now have access to a competitively priced dental CAD/CAM system that offers both in-lab and out sourced manufacturing options.
Affordable dental CAD/CAM ......without compromise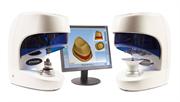 Frameworks can be manufactured from data obtained directly from Renishaw's incise dental scanner. The sophisticated incise dental CAD software analyses this data and automatically determines a best-fit margin line and other parameters. The 3D computer model can then be fine-tuned by the technician if required before sending the data directly to the incise dental milling system, which machines the pre-sintered zirconia. Highly competitive pricing is available for the scanner, milling system and zirconia billets.
Before firing the copings or bridge frameworks in a furnace, a colour stain can be added to the zirconia to best match the patient's existing natural teeth, or left as the original white colour. Zirconia is an extremely bio friendly material, that also provides exceptional strength and optimum aesthetics for even the most demanding restoration.
World leading dental technology
Renishaw's extensive research and development programmes enable users to benefit from over 35 years of innovation in industrial measurement and CAD/CAM, also bringing a new understanding and precision to the manufacture of metal-free dental frameworks. Today, fitting all-ceramic restorations are an important part of clinical dentistry. Renishaw's incise ceramic restorative CAD/CAM technology will demonstrate to Dental Showcase visitors that it is an essential ingredient in any modern dental laboratory.
More details about Renishaw's incise dental CAD/CAM system.
All images and text copyright Renishaw
News updates
Register for regular news updates from Renishaw