Ground breaking molecular diagnostics business appoints new Head of Marketing
Jim Greaves is appointed Head of Marketing for Renishaw Diagnostics Ltd
Glasgow, Scotland, 17 August 2010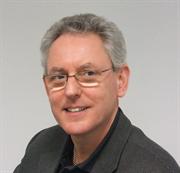 Renishaw Diagnostics Ltd, a world leading provider of trace level detection technologies based on the exploitation of Surface Enhanced Raman Spectroscopy (SERS) and Surface Enhanced Resonance Raman Scattering (SERRS), today announced that it has appointed Jim Greaves as Head of Marketing. He will help prepare the organisation for the international launch of its first in-vitro diagnostic (IVD) products, with the aim to establish Renishaw Diagnostics as a global player in the field of molecular diagnostics for human infectious diseases. Dr Greaves has over 25 years of commercial life sciences experience, including Director of Marketing at Invitrogen, Business Development Director at CXR Biosciences and Director of Marketing at ITI Life Sciences.
The Company's CEO, David Burns, said, "I am delighted to welcome Jim to the Company. We already have a strong multi-disciplinary technical team and his proven marketing skills and commercial experience will be important to the successful launch of our exciting portfolio of research and molecular diagnostics products that Renishaw Diagnostics has planned for the next few years."
Dr Greaves, who holds a PhD in bacterial genetics, has gained extensive knowledge of sales, marketing and business development within scientific and technical sectors. Prior to Invitrogen, he also held senior roles within Mettler Toledo, Shandon Scientific, Fisher Scientific and Sarstedt, and also worked in the Public Health Laboratory Service. "I am very excited by this new challenge," said Dr Greaves. "Renishaw Diagnostics has a tremendous future with our multiplex diagnostic platform and I am excited at helping the team deliver world-class DNA-based diagnostic tests to detect diseases, or the genetic predisposition to diseases."
About Renishaw Diagnostics Ltd
Renishaw Diagnostics Ltd, formerly D3 Technologies Ltd, was a Strathclyde University spin-out before being acquired by the Renishaw Group, which is a leading global supplier of engineering technologies, medical devices and Raman spectroscopy systems. It is focused on developing and commercialising its first in vitro diagnostic (IVD) and clinical research products, with the goal of establishing Renishaw Diagnostics as the premium provider of automated, multiplex, high sensitivity molecular diagnostics products for the detection of human infectious diseases. The Company is based in Glasgow, Scotland, and further information is available at www.renishawdiagnostics.com.  
All images and text copyright Renishaw
Register for news updates
Register for regular news updates from Renishaw