Ultra-compact touch probes with radio signal transmission
Renishaw will demonstrate new touch probe systems that use its unique frequency hopping spread spectrum (FHSS) probe signal radio transmission technology to allow automated job set-up and in-process measurement on all sizes of CNC machine tools. The new ultra-compact RMP40 probe is especially suited to multi-axis and mill-turn applications, whilst its variant, the RLP40 touch probe (pictured right), is specifically designed for more hostile turning environments. A transmission only module RMP40M is also being introduced.
New multi-axis development for PC-based probe software
Measurement on multi-axis machine tools is set to take a great leap forward with the introduction of a new version of Renishaw's Productivity+™ suite of PC-based probing software. A key improvement is a new multi-axis option that allows more creativity and efficiency in machining processes, which supported by Renishaw's high accuracy Rengage™ 3D technology-based touch probes and new ultra-compact radio probes, gives process engineers and machinists a wide choice of flexible process solutions.
New wireless ballbar allows volumetric testing of machine tools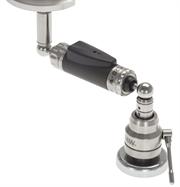 Also being shown at MACH 2010 will be the successor to Renishaw's well established QC10 ballbar system, which has been adopted worldwide for the assessment of machine tool positioning and servo control performance. The QC20-W ballbar is a completely new design featuring a Renishaw developed linear sensor and Bluetooth® wireless technology, which also allows testing in 3 orthogonal planes through a single reference point. A single, simple hardware set up means quicker testing and the ability to produce a representative volumetric measurement of positioning accuracy.
New system offers fast, automated health check for multi-axis machine tools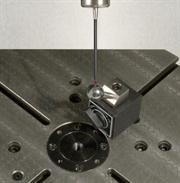 AxiSet™ Check-Up extends Renishaw's market leading range of machine tool testing and calibration systems, with a new cost-effective solution for checking the alignment and positioning performance of rotary axes. In just a few minutes, users of five-axis machining centres and multi-tasking mill-turn machines can now identify and report on poor machine alignments and geometry that can cause extended process setting times, as well as non-conforming parts.
Cost-effective CMM upgrades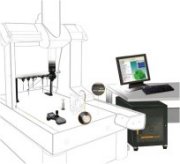 Renishaw will also address the issues faced by manufacturers who are suffering from inspection bottlenecks that tie up staff and expensive machines whilst waiting for vital measurement results. Renishaw offers cost-effective CMM retrofits for all budgets and applications, from touch trigger probing and 3-axis scanning, through to the latest ultra-fast REVO® five-axis measurement system. The company offers a 'one-stop shop' upgrade solution, from its new MODUS metrology software and universal CMM controller, through to sensors and machine calibration.
Absolute optical encoder and 1 nm resolution incremental encoder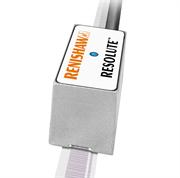 RESOLUTE™ is a true absolute optical encoder system that has excellent dirt immunity, and an impressive specification that breaks new ground in position feedback. Visitors to MACH 2010 will see that it is the world's first absolute encoder capable of 27-bit resolution at 36,000 rpm, giving an astonishing market-leading resolution of just 1 nanometre at 100 m/s for both linear encoder and angle encoder applications. Absolute position is acquired immediately at system switch-on, so the exact orientation of axis and motor commutation angle are known without the need for a reference (datum) return.
Visitors to MACH will also be able to see additions to the TONiC range of incremental optical linear and rotary encoders, including 1 nm and 2 nm resolutions, a dual output encoder interface, and compatibility with Renishaw's Dual Signal Interface (DSi) for high accuracy angle encoding.
For more information about the show visit the official MACH 2010 website.