28 March 2012
Renishaw, the global specialist in advanced engineering technologies, has appointed a specialist UK sales development manager for its new additive manufacturing product line. With extensive experience in the field of rapid manufacturing, Steve Crownshaw has been appointed to the role to provide expert information to Renishaw's customers in the areas of laser melting, vacuum casting, and injection micro moulding.
Renishaw's new additive manufacturing division produces products with a wide range of applications across a variety of sectors, including the manufacture of highly complex parts for the medical, dental, aerospace and high technology engineering and electronics sectors. Crownshaw has over 30 years of experience in both engineering and sales, as well as experience working with pioneering additive technology.
Having previously worked for a variety of different companies, Crownshaw's breadth of knowledge in both practical engineering and commercial functions make him perfectly placed to assist Renishaw in expanding its presence in the additive manufacturing market.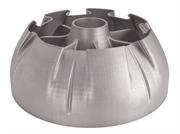 Renishaw's UK and Ireland Sales Manager, Mathew Favell, says: "Steve has made an immediate positive impact on how we approach our sales into the laser melting market. His extensive knowledge of additive manufacturing and similar complementing technologies has enabled us to plan towards a very bright future."
Speaking about the role, Crownshaw says: "Renishaw, it is a highly respected engineering company, and I am pleased to have joined their experienced sales team. I look forward to helping develop the market for its laser melting product, which is an exciting and innovative addition to Renishaw's strong portfolio of products that benefit manufacturers."
For more information, please visit www.renishaw.com/additive.