Project consultancy
We are industry experts in the mapping and measurement of extreme terrains.
For customers requiring accurate measurement data, to support business planning in a range of industries, our project consultancy services offer unrivalled expertise and flexibility.
In tough conditions, we deliver
Our project teams of engineers use highly accurate 3D laser scanners to provide detailed data on infrastructure, buildings or the environment, above or below ground.
We are known as industry experts in the full project management of:
subsurface laser scanning - void scanning, cavity scanning, down borehole surveying
mapping abandoned mine workings
rail surveying
road surveying
bridge surveying
tunnel surveying
construction projects, survey control and survey project management
land and mineral surveys
coastal mapping, waterway mapping
urban surveys
Why use our teams?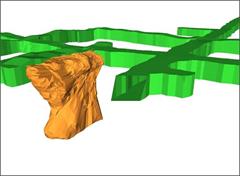 We work exclusively with the highly-accurate, market-leading 3D laser scanning systems, which we have designed, developed and sold around the world ourselves, for over 20 years, and which include Dynascan, C-ALS and Void Scanner.
Our experience, familiarity with the equipment and software, and project management expertise allows us to work quickly, accurately, safely and with minimal disruption, even in harzardous environments.
We work in tough terrains, capturing highly accurate data, year-round: underground, at sea, at height, in deserts, we understand the challenges, and undertake to deliver the data you need, in the format you require, to your timescales.
We offer:
expert project managers to co-ordinate our work with those of your other specialist contractors and keep you informed
full quotations, so that in the event of difficulties with terrain, weather or other factors, you have a guaranteed price
use of highly accurate, market-leading 3D laser scanners designed for tough marine, desert and underground environments
experienced engineers, who work with our high-accuracy mapping and measurement systems on a daily basis, and know them better than anyone else
decades of working on projects similar to yours: waterway mapping, coastal erosion, desert development, mine mapping, subsidence surveys etc. Our teams are called in where traditional techniques don't work, and thrive on the challenge of data capture in demanding conditions
full data-processing services
deliverables in the formats you require, for example as as fly-through animations, point cloud data sets, 2D elevations, cross sections, 2D or 3D line drawings, 3D models, surface models, or digital terrain maps 
Our own in-house team often partner with local expertise, or with our expert associates, depending on the challenges of projects, to ensure our customers benefit from our total project management services through all stages of site preparation, data capture and delivery of data in the format you choose.
Example project: Desert mapping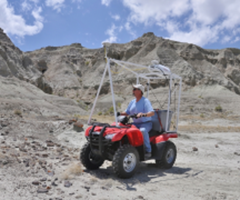 Our team undertook a 440km mapping project in the Middle East for a client planning the construction of a new mine site and a large scale associated mixed-use development.
The project was made more challenging by the desert terrain, the remoteness from other developments and the lack of surveying control points.
A team of three of our engineers worked to cost the project, set up GPS control points, map the vast site, and process data. On completion, the client was presented with detailed digital terrain models, survey reports and 2D and 3D drawings, which enabled them to plan the new developments, and instruct contractors.