Quarrying applications
Quarry operations can be made more efficient by using data from portable and robust laser scanning systems. Quarryman Pro ensures greater control over blasting operations and has transformed the safety and productivity of quarrying operations where it has been adopted.
Checking that the drilling is done correctly as per the blast design is very important. Incorrect drilling, including wrong positioning, incorrect angle, hole deviation and incorrect depth can pose serious risks.
Carlson Software Inc has acquired the Quarryman, Boretrak, C-ALS, Void Scanner, Merlin and ILM laser module product lines previously owned by Renishaw plc. Please visit our Carlson webpage for details.
Blast optimisation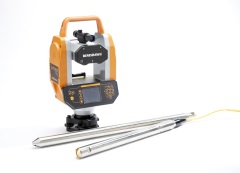 Using the Quarryman® Pro laser scanner for face profiling in combination with Boretrak®  for measuring borehole deviation provides quarry managers with a precise calculation of burden, resulting in:
safer blasts and fewer fly-rock incidents
more efficient blasts, since the optimum amount of explosives can be calculated
a reduction in secondary breakage required, and therefore reduced crusher through-put
neater faces, benches and quarry floors, making for more efficient operations
minimal environmental impacts, including airblast, noise and vibrations
Surveying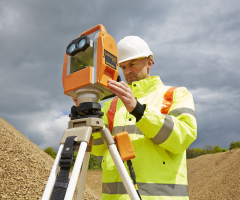 Accurate bench profiling and surveying is a critical first stage in ensuring efficiency in all downstream operations. The use of accurate and reliable equipment has significant time and cost savings for quarry operators. Key to this is the correct equipment and trained operators. Data collected with Quarryman Pro is used to measure bench heights, level of crest and toe, slope angle, and maximum and minimum burden. By mapping a rock face in detail, it is possible to determine actual burdens across the face to avoid excessive burden (vibration, oversize) and insufficient burden (fly-rock, airblast). If neglected, or if surveying is done incorrectly, this can affect the rest of the quarrying process, including increased safety risks and additional cost.

Pattern design
Quarryman Pro data enables you to plan blast hole layout.
Safety parameters, vibration limits, explosives to be used, and design floor elevations must also be considered when designing the pattern.
The resulting blast design plan should clearly specify the collar elevations, burden, spacing, drill hole diameter, type and quantity of explosives and type and delay of detonators.
Drilling
Checking that the drilling is done correctly as per the blast design is very important. Incorrect drilling including wrong positioning, incorrect angle, hole deviation, and incorrect depth can pose serious risks. Renishaw's Boretrak can be used to verify the hole depth, heading and inclination.

Cabled Boretrak, our light, portable and quick to calibrate system for downhole deployment only, and Rodded Boretrak, which can be deployed uphole and in areas subject to magnetic interference, both offer the key benefit of giving accurate data on site to help decision making.
3D mapping of entire quarry or mine sites
Open-pit landscapes are constantly changing as excavations are made, stockpiles grow, and blasting operations take place. With such a dynamic environment, regularly compiling a complete 3D map of the site is useful to help plan operations such as truck routes, siting of generators, crushers or other equipment, reporting to local residents or other stakeholders at update meetings.
Quarryman Pro is used in such circumstances because it is fast, portable and rugged. The resulting scans can be stitched together to give a complete model of the site. The long range of Quarryman Pro helps to minimise the number of instrument setups needed and so reduces operator time needed to complete surveys.
Stockpile surveying
Stockpile surveys and other volumetric surveys are needed for legal and accounting reporting requirements, as well as helping prevent theft from site, and enabling managers to plan for deliveries / collections efficiently. Quarryman Pro gives you a quick and simple way to conduct this work giving you a large healthy return on investment against the cost of the system.
Mobile mapping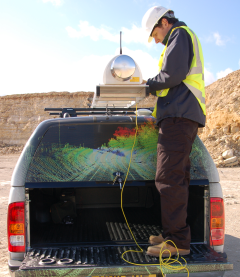 A mobile mapping system such as Dynascan, when used mounted on a vehicle, is a fast way of mapping out a complete site.
The one pod solution can be mobilised in under an hour and carry out surveys in a fraction of the time of conventional stop and shoot survey techniques.
The rugged design of the system and resistance to water ingress means Dynascan can be used even in adverse weather conditions.
Dynascan's portability means it can be mounted onto a number of different quarry vehicles, from site 4x4s to haulage trucks. The system provides a complete and accurate asset management data set, by combining the latest motion sensor, GPS and laser technology to provide accurate XYZ and RGB data.
When using Dynascan, depending on site layout, there may be areas that are 'shadowed', because they are inaccessible for vehicles. The Quarryman system can be used to fill in the gaps in a big data set. It can be set up in awkward locations – inaccessible to a vehicle – or can view areas from longer distances than a mobile mapping solution can. In this way, small infill areas can be collected quickly and easily, and then incorporated into the full model.