Quarryman Viewer software
Quarryman Viewer enables stockpile volume calculations, face profiling and blast optimisation
Carlson Software Inc has acquired the Quarryman, Boretrak, C-ALS, Void Scanner, Merlin and ILM laser module product lines previously owned by Renishaw plc. Please visit our Carlson webpage for details.
Quarryman Viewer software
The Quarryman Viewer software offers users big advantages over previous Quarryman software:
Quicker to operate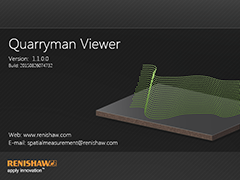 The new intuitive feel makes work flow quicker for operators.
New visuals allow for clearer viewing and quicker interpretation of data.
Quarryman Viewer offers time-saving automation, including automated point coding, automated traverse processing, and automated surfacing of single scans.
User preferences means Quarryman Viewer stores your most commonly completed functions, making it quicker to repeat them for future projects.
Project tree gives easy access to - and control of - all data: scans, surfaces, observations and stations.
Flexible options suit the way you work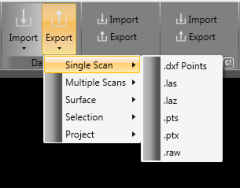 Import options reduce operator programming time. Enter in one system and view in Quarryman.
Set up filters to give you only the data you want.
Export points, surfaces and strings in multiple formats to all major CAD and point-cloud packages.
Increased functionality enables you to complete more operations in the software, and save time.
Some surveying functions are now included in the Quarryman software, so users can easily compute traverses, resections and range and bearing observations.