2 May 2012
Renishaw, a world leading engineering technologies company, has purchased the business of R&R Sales LLC, a US-based supplier of fixtures for the global measurement and inspection market.
The acquisition of family-owned R&R, which has 19 employees and is based in Grand Haven, Michigan, will support Renishaw's increasing focus on metrology system sales to end-users such as its new Equator gauge which requires fixturing products.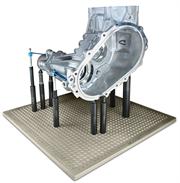 For over 20 years R&R has supplied the global measurement market with both modular and custom fixtures for CMM and vision systems. The R&R Fixture is widely used to hold parts for dimensional inspection in almost every manufacturing field; from automotive, aerospace and electronics to medical and household appliances.
John Ray, President of R&R, says, "We all look forward to this new opportunity and being a part of the Renishaw Group. We sincerely believe that its extensive worldwide network of offices will help promote our high quality fixturing on more of an international basis and we also hope to incorporate Renishaw's manufacturing processes within our plant to further improve our operational efficiencies.
R&R has had a long relationship with Renishaw Inc in the US and we now look forward to growing new relationships with all the Renishaw offices worldwide."
Speaking about the acquisition, Renishaw's Chairman and Chief Executive, Sir David McMurtry, says, "We are very pleased to announce our acquisition of R&R Sales. We have known the company and its products for many years, and it has a very strong presence in the USA where it supplies fixturing to many high quality businesses.
With our new measurement products, such as the Equator gauge, and our existing global customer base for measurement products, we believe that we can significantly expand the market for the R&R fixtures."