27 January 2011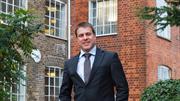 A former craft apprentice at Renishaw, the global metrology and healthcare specialist, has been appointed as its new UK & Ireland Sales Manager. Mathew Favell joined Renishaw in 1987 aged just 16, and following his four year apprenticeship, held a wide range of technical and customer-facing positions within the company, including overseas projects. He will now be responsible for growing the sales of the company's world-leading measurement, calibration, and position encoder products.
Marc Saunders, General Manager for Renishaw's UK & Ireland Sales Division, says, "I am very pleased to make this appointment, which highlights Renishaw's long-term commitment to develop its own staff. Mathew brings very strong engineering, commercial knowledge and customer empathy to the role, which is a hallmark of our sales and applications teams across the globe."
Favell brings with him a wealth of practical engineering and commercial experience, with a solid grounding in machining, assembly, CNC programming, application support and quality assurance gained during his initial apprenticeship. He spent 10 years supporting specialist machine tool probe applications at customer sites across the world, and in 2002 left his position as Senior Applications Engineer to become Area Sales Manager for the South West of England, where he has gained a deep knowledge of the aerospace sector. He replaces Chris Davies, who has left Renishaw to help develop a business that markets professional titanium bikes.
Says Favell, "I am delighted to take on this new challenge, especially as it comes at a very exciting time in Renishaw's development, with some superb products recently launched and major announcements imminent about groundbreaking products for the metalworking sector. Although I have spent my whole career at the company, the changes over the past 23 years have been immense, and the drive and ambition internally is as strong as it ever has been."