10 April 2012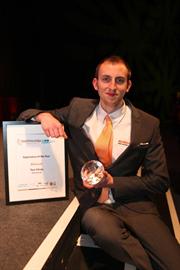 Tom Silvey, a 3rd Year apprentice at Renishaw, has won two awards at Gloucestershire's inaugural Apprenticeships Awards, where the guest of honour was Her Royal Highness The Princess Royal. As well as being voted the Outstanding Apprentice in the Engineering & Manufacturing category, Tom also received the Diamond Jubilee Gloucestershire Apprentice of the Year award which recognises the year's most outstanding apprentice.
The awards were presented by The Princess Royal at a gala dinner held at Cheltenham Racecourse on 4th April, which was attended by 350 apprentices and business leaders from across Gloucestershire. At the event young people and companies were honoured for their achievements and apprenticeship programmes in disciplines as varied as health, manufacturing, finance and construction.
Tom, aged 23, is currently training as a Production Engineer at Renishaw's world-class machine shop in Stonehouse, Gloucestershire. His route into apprenticeships was far from conventional, having initially started a mechanical engineering degree which he quickly decided was too theoretical and lacking in practical aspects. Tom has now taken on and completed major design projects within Renishaw, leading to his nomination by the company.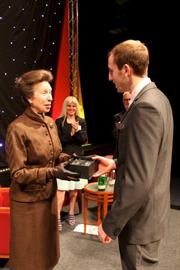 After receiving his award from The Princess Royal, Tom was interviewed by local media, including a live interview with BBC Points West during their main evening news bulletin. He said: "It is really good to have won. I love the design side of my work and manufacturing. I like all the aspects of the job and would recommend an apprenticeship to other people." Tom was however not dismissive of a university degree: "It is very much down to the interests and aptitude of each individual", he said, adding that "you can still go on to study for a degree after an apprenticeship."
Sir David McMurtry, Renishaw's Chairman and Chief Executive, himself a former apprentice, said, "This is a proud moment for Tom and for the people within Renishaw who have helped mentor him over the past few years. We have an excellent track record of developing our own talent and our current UK Manufacturing Director joined us as an apprentice aged just 16." 
Renishaw is currently recruiting for 29 apprentices within the UK for its various schemes which now include technical, manufacturing, plant maintenance and software apprenticeships. The company was well represented at the awards as two other apprentices, Aaron Booth (3rd year) and Ollie Counsell (1st year) also achieved nominations for the Engineering & Manufacturing award.