Renishaw Diagnostics Gains ISO 13485 Certification
Glasgow, Scotland, 1st December 2011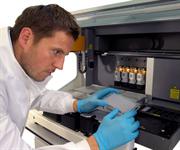 Renishaw Diagnostics Ltd, developers of the RenDx™ Multiplex Assay System for infectious disease research and diagnosis, today announced that it has been certified to ISO 13485:2003 for the following scope: design, development, product manufacture and management of subcontracted manufacture of molecular diagnostic systems for infectious diseases.
ISO 13485 is a standard, published in 2003, that represents the requirements for a comprehensive management system for the design and manufacture of medical devices.
Allana Johstone, Renishaw Diagnostics' Head of Compliance said,"The BSI assessor was very impressed with our QMS System, our good practices, everyone she interacted with, and the general atmosphere she observed here at RDL. Our staff should be very proud of themselves for the outstanding contribution they have all made towards this achievement. It is unusual for a company as young as ours to have manufacturing included in the scope of the certification, so we are very pleased indeed."
Rupert Jones, General Manager, said, "We are delighted to have received this certification; it reflects a significant effort by all of our staff and reinforces our commitment to quality. The transition from an R&D company to a fully commercial organisation is a very challenging process and it is essential that we have the right people and systems in place to make this happen".
Enquiries: Jim Greaves Ph.D, Head of Marketing (+44 141 5577900)
About Renishaw Diagnostics Ltd
Renishaw Diagnostics Ltd, formerly D3 Technologies Ltd, was a Strathclyde University spin-out before being acquired by the Renishaw Group, which is a leading global supplier of engineering technologies, medical devices and Raman spectroscopy systems. It is focused on developing and commercialising its first in vitro diagnostic (IVD) and clinical research products, with the goal of establishing Renishaw Diagnostics as the premium provider of automated, multiplex, high sensitivity molecular diagnostics products for the detection of human infectious diseases.
Renishaw Diagnostics has launched its first RenDx™ research-use-only (RUO) multiplex assay system and is working towards the obtaining of CE marking for the system as an in vitro medical device in Europe and clearance in the US.
The Company is based in Glasgow, Scotland, and further information is available at www.renishawdiagnostics.com.