17 February 2011
Renishaw (Hong Kong) Ltd. has won the prestigious Best Supplier Award at the 2010 China Higher Educational Equipment Supplier Evaluation. Renishaw (Hong Kong) Ltd., with the inVia Raman microscope, is the first and only Raman spectroscopy supplier to win this award.
The awarding body
The award was presented by the Higher Educational Laboratory Research Society, whose review and inspection committee comprises experienced professors, spectroscopy experts, and user representatives from well-known universities in China. Their review was based on several criteria, including advanced technology, acceptance achievements, quality standards, delivery lead time, customer feedback, relevant training, upgrade promotion, service response speed, and distribution of maintenance and repair networks.
Background to the inVia Raman microscope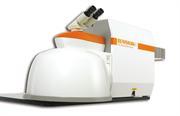 In the early 1990s, Renishaw, together with University of Leeds in the UK, developed the world's first compact easy-to-use Raman microscope. Since then, Renishaw has continued to apply innovation, developing features such as: patented confocal technology (EasyConfocal); fast parallel-acquisition scanning (SynchroScanTM); AFM/NSOM-Raman; SEM-Raman; and StreamLineTM fast Raman imaging. These innovations keep Renishaw at the leading edge of Raman technology and help its users perform world class research. In addition to its commitment to innovation, Renishaw is continually improving its products, ensuring that its customers receive instruments of the highest quality and performance.
Renishaw's inVia is the market leader in China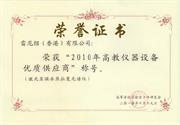 inVia's unique combination of high sensitivity and high spectral resolution, with the added benefit of full automation, helped Renishaw earn the highest score from the committee of award judges. Renishaw's inVia is currently the market leader in the Chinese high-end research-grade Raman market, and The Best Supplier Award reflects Renishaw's growing reputation among China's universities.
Renishaw (Hong Kong) Ltd
Renishaw (Hong Kong) Ltd is an Asian subsidiary of Renishaw plc and provides sales and technical support to countries in Asia, including China. In addition, Renishaw's wholly-owned Chinese trading subsidiary, Renishaw Shanghai (Trading) Co Ltd., now has operations in nine different cities – Beijing, Guangzhou, Shenzhen, Chengdu, Shenyang, Qingdao, Xi'an, Suzhou, and Shenzhen; these provide a full range of local services from customer support to pre-sales application advice.
For further information about inVia Raman microscopes visit www.renishaw.com/raman.