Rodded Boretrak®
Rodded Boretrak's unique method of deployment ensures accuracy where other systems would let you down.
Rodded Boretrak gives unique capabilities to measure borehole deviation uphole and downhole in situations where other systems won't work, including underground mines and areas of ferrous materials.
What makes Rodded Boretrak unique?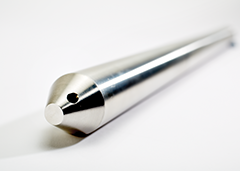 Rodded Boretrak measures borehole deviation in situations where other systems won't work. It's a unique, accurate, reliable and versatile probe system that offers significant advantages over cabled systems for many applications.
Other laser probes used to measure borehole deviation, including our Cabled Boretrak, rely on compasses to help measure borehole angles.
While these systems work well in some applications, Rodded Boretrak can be used in many more situations to achieve far more accurate measurement. Rodded Boretrak uses specially designed rods to guide and locate the probe in place of a compass. The probe can be deployed uphole as well as downhole, and can be used in areas of ferrous material, areas with cabling or metal works, or other areas where magnetic inteference is experienced.
Rodded Boretrak improves the safety and efficiency of underground mines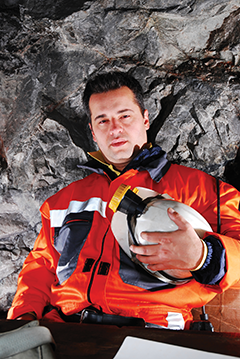 Underground mining techniques will often require holes to be drilled in planned patterns and loaded with explosives. Using Rodded Boretrak to obtain accurate data on the depth and angle of holes drilled delivers a range of benefits, including the following:
Plan blasting using live, accurate data: Boreholes drilled don't always match the drilling plan, due to a range of factors. With Boretrak, the blast can be designed, taking into account the true deviation of the holes rather than the intended, theoretical hole design.
Reduce the risk of unsafe or inefficient blasts: With Boretrak, any problems in the drilling can be flagged up quickly.
Use one system for a wide range of projects: Rodded Boretrak allows uphole and downhole borehole measurement with a single tool.
Work accurately, without the interference associated with compass-based systems: Rodded Boretrak does not use a magnetic compass so will not be affected by the heavy machinery, generators, ferrous metals in the rock, steel reinforcements and cabling found in an underground environment.
Get a complete picture of underground structures: Boretrak data can be georeferenced and fitted into the mine's local co-ordinate system. This allows data to be viewed in mine-planning packages alongside other surveyed data.
Deploy personnel more effectively: A 20 m hole can be surveyed in a matter of minutes. The speed of the survey frees up underground personnel for other work.
How Boretrak improves results in engineering and geotechnical works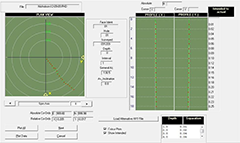 Drilled holes are employed in a wide variety of engineering and geotechnical works. In all cases, the requirement is a hole drilled to specified depth, inclination and heading. The experience of the driller, the quality of the equipment, the angle drilled and the local geology can all contribute to the borehole deviating from its intended path.
By using Boretrak, those responsible for engineering and geotechnical drilling projects can observe the following benefits:
Produce an audit of drilling operations: This gives the team confidence in the inclination, heading and depth of the Borehole.
Build a complete picture of underground structures: Referencing the survey to the local co-ordinate system allows Boretrak data to be viewed in conjunction with other surveyed sub-surface structures. Boretrak helps prevent any potentially disastrous situations where drilling operations intersect with tunnels, shafts and underground utilities.
Avoid downtime: Boretrak is designed to cope with the challenging conditions encountered on engineering projects, construction sites and in geotechnical applications, which can result in damaged, waterlogged or clogged-up equipment.
React quickly: The quick deployment and recovery of the probe allows data to be viewed on screen in minutes so feedback from the results can be analysed and acted upon without delay.
Downloads
Brochure: Rodded Boretrak® and Cabled Boretrak®

The Boretrak borehole deviation measurement system improves safety and enhances productivity by giving you a cost-effective, reliable and portable way to measure borehole deviation in a wide range of applications.

Data sheet: Rodded Boretrak®

Detailed list of technical specifications and dimensions for Renishaw's most versatile borehole deviation measurement system, the Rodded Boretrak. This device is unique in that it can be deployed uphole or downhole and in all types of rock. Rodded Boretrak has been tried and tested for a wide range of applications.