Underground applications
Gathering accurate spatial data underground poses many challenges, including inaccessibility, cost and risk to worker safety.
Carlson Software Inc has acquired the Quarryman, Boretrak, C-ALS, Void Scanner, Merlin and ILM laser module product lines previously owned by Renishaw plc. Please visit our Carlson webpage for details.
Supporting safer, faster, and more accurate data acquisition
Renishaw's C-ALS® and Void Scanner laser-based cavity monitoring systems (CMS) have been designed and optimised for underground scanning. Rugged, shock-proof design, and high levels of ingress protection ensure high performance in the wide range of temperatures and conditions found deep underground.
Our customers use C-ALS and Void Scanner to access the latest laser-scanning technology without needing to invest in costly surveying personnel. Our simple-to-use hardware and intuitive software supports those engineers with little or no laser-scanning experience, and can reduce the amount time workers spend in potentially hazardous environments, or eliminate it all together thanks to our flexible deployment methods.
Project support
Renishaw training supports new and existing customers with on-site or classroom-based courses, or for those customers with a one-off requirement, our trained operators can complete data capture and data processing for you, giving you the information you need to progress projects quickly.
Decades of industry experience
While originally designed to perform in the challenging conditions found in deep underground mines, Renishaw laser scanners have been used on a huge range of projects in many different sectors. These include heritage and conservation, development and construction, and tourism.
Underground or surface mining projects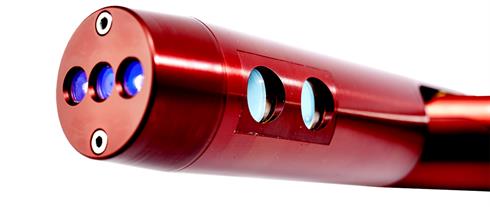 The existence of an underground mine void does not necessarily represent a significant subsidence hazard. By using C-ALS to determine the size and extent of the openings, spacing and size of pillars, mining customers have been able to evaluate and accurately assess risk, and in many cases prepare for ambitious new mining programmes by ensuring project plans are safe.
Mine managers require a complete assessment of the situation underground before committing to projects or deploying workers, and C-ALS supports them by providing key data on:
Stope excavation and infill

Accurate void location

Geometry and condition of mine workings (intact / collapsed)

Inaccessible historic workings

Collapsed areas
Void volumes

Cavity position relative to other underground workings and structures

Size of remaining pillars

Failure mechanisms (sinkholes/troughing)

Location of the workings relative to surface features
Spatial data for informed decision making
C-ALS is ideal for providing 3D data on inaccessible underground cavities. Mine managers can assess the stability of mine works and determine whether or not an underground cavity needs to be filled, whether work can proceed, and what project plans should be put in place to ensure that productivity and safety are maximised.
Open-pit operations taking place over historic underground workings can pose serious threats to worker safety. The old mines will frequently be poorly mapped or will have shifted over the years due to collapse, void migration, flooding and seismic activity. A full understanding of the layout of the underground workings and their relation to surface operations is essential in order to be able to carry out safe open-pit operations with heavy machinery, explosives and personnel.
Traditionally, it has been very difficult or dangerous to collect this information. However, the borehole-deployable C-ALS can be used from the surface to map out the network of old voids and provide a detailed visual record of the subsurface environment, which can then be georeferenced into existing mine maps.
Scan voids where access is limited
Void Scanner can be used to safely scan abandoned room and pillar workings, and collapsed mines, where an aperture of 14 cm or more exists. Data can be used to plan mitigation work (shotcreting, sealing and closure), or used in support of planning or environmental applications.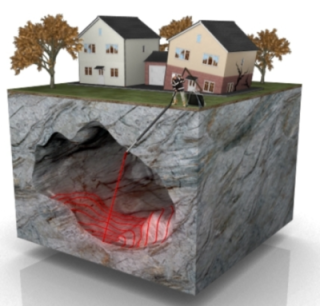 Pre- and post-construction subsidence surveys
The presence of old mine workings or voids underlying residential and commercial properties, transportation, and infrastructure facilities can cause differential settlement, sinkholes or even catastrophic collapse.
While historic mine maps can help determine the geometry of voids, their depth, and the nature of overlying strata, they do not help identify the results of retreat mining, pillar theft, spontaneous collapse or other subterranean movements.
Engineering solutions can be put into place to counter problems caused by old underground workings, but designing these solutions requires a complete visual representation of the situation underground. By deploying C-ALS into these otherwise inaccessible areas, the required data can be collected and the area comprehensively mapped.
Construction and geotechnical projects
Both C-ALS and Void Scanner have been widely used in the construction and related industries, on projects including:
Surveying collapsed buildings
Inspecting nuclear facilities
Measuring volumes in storage silo
Surveying wall conditions in inaccessible areas
Construction and geotechnical projects often need to identify, measure and map voids below the project site. Where such voids cannot be accessed easily or safely, technologies such as ground-penetrating radar (GPR) may be used to detect the void, but results can be limited by depth and geology, and can be difficult to interpret. The borehole-deployable C-ALS, however, is ideal for applications where a void is concealed.
After locating the approximate position and extent of the void from GPR or previously held data, a borehole is drilled into the void or cavity and the C-ALS is deployed via the borehole or other small access point. Once in the void, the laser head opens out and rotates to measure the 3D shape of the complete void. The scan data can then be analysed visually via the Cavity Profiler ‑ C-ALS software, with measurements and volume calculated while still in the field.
New project planning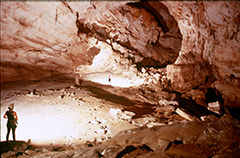 Whether it is to satisfy environmental or safety requirements, or to assess the profitability of a new project, accurate detailed data is important for feasibility studies and crucial for evaluating new ventures.
Void Scanner gives mine owners the opportunity to gather this data reliably at low cost and so is often used by customers wishing to survey a newly acquired mining site, as well as those wishing to ensure that safe extraction has been maximised in current holdings.
Using the Void Scanner software's multi-station project capability, it is now easier than ever to scan from multiple locations and view the resulting scan together in real time for a complete picture of the project site. Many of our laser scanners have been in operation for over eight years, giving an impressive return on investment when used to assess feasibility and plan the development of new projects.
Supporting safety
Projects can be delayed, often at great cost, when organisations lack the equipment to gather data without putting lives at risk. Renishaw cavity monitoring systems support safety in the following ways:
Flexible deployment options enable operators to retreat to a position of safety during scanning.
Access to detailed models of underground voids supports informed decision making in challenging conditions.
Time-of-flight laser measurement enables operators to map the shape, position and spatial location of cavities quickly, reducing the amount of time workers spend in hazardous locations.
Asess risk and plan safety measures to make previously unsafe areas suitable for future extraction or other development.
New value opportunities
The visualisation capabilities of Void Scanner and its 3D manipulation tools allow our customers to gain valuable data, which supports the creation of new value opportunities. For example, the geological data obtained can be used to help identify new ore bodies, while the spatial measurements from Void Scanner can also be used to aid mine design in CAD.
Once the mine design is complete, Void Scanner can be used throughout the mine infrastructure development and build stages - alongside other surveying and measurement tools - to check that work is completed according to design, including the positioning of installations.
Reconciliation of underground workings and ore stockpiles
End-of-shift scans of a mined area take around 12 minutes, and give mine foremen a calculation of the volume extracted for a quick, easy and accurate record of productivity. Void Scanner can also be used to survey waste and ore stockpiles, to help audit operations and account for material.
As well as providing vital data to support operational management, by comparing the volume extracted and the volume in stockpiles, these two data sets can be used to help evaluate mine workings against the planned design, and to adjust predicted extraction on a regular basis.
Underground blast planning
Blast optimisation helps minimise the problems associated with vibration (risk to worker safety and damage to local property or mine infrastructure), flyrock, and over-or under-fragmentation.
Void Scanner makes blast optimisation easier to complete and can transform the profitability of mining operations at a low cost of investment.
Using Void Scanner to accurately measure the size of voids, the optimal quantity of explosives can more easily be calculated, resulting in safer, more accurate blasting.
Other mining applications
Void Scanner and C-ALS are versatile cavity-monitoring systems. In addition to their unique capabilities for accessing remote voids, they can also be employed on a regular basis to gather data for a range of operational requirements, more safely, accurately and cost-effectively than traditional survey techniques. Such applications include:
Drive surveys
Face modelling
Pre-and post-excavation mapping