What's new?
Visit this section regularly for the latest Equator developments
NEW Equator™ Button Interface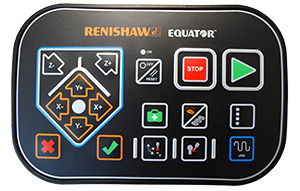 In many shop-floor environments simple operator controls are essential. Customer feedback has shown that an alternative to the keyboard and mouse is required, so Renishaw has introduced the Equator Button Interface (EBI), which works directly with the Organiser software.
EBI uses large push buttons which can be operated by operators wearing gloves. It is not affected by shop-floor contamination and can be mounted on the front of the Equator or on the framework of a table or enclosure. At the most basic level it can be used to start gauging programs, but can also be used to stop those programs mid-cycle, select other programs and navigate the Organiser environment. Equator can be moved using the jog keys if necessary and there are buttons for initial alignment, switching between master/measure modes, changing view screens and easy error recovery.