What's new?
Visit this section regularly for the latest Equator developments
NEW INTUO™ software
INTUO™ with Equator is an ideal alternative to multiple manual devices such as vernier or digital callipers, micrometres and plug gauges. Equator is highly repeatable and runs fast automated routines, meaning significantly reduced labour costs. With many workshops using hundreds of manual gauges this cost saving can be considerable.
INTUO, with minimal training, uses intelligent functions to help the engineer set up gauging of parts in a matter of minutes. Shop-floor operators then select and run those programs using the user-friendly Renishaw Organiser front-end software.
INTUO allows the programmer to create gauging routines using just a part with an engineering drawing. With the Feature Predict function activated, the programmer uses the joystick to take points on each feature while INTUO does most of the work, by predicting the type of feature, the nominal value and a possible tolerance band. 
It is then easy to adjust the program to change the number of points taken or to space them evenly, and match nominals and tolerances to the engineering drawing.

NEW Equator™ Button Interface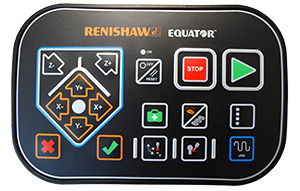 In many shop-floor environments simple operator controls are essential. Customer feedback has shown that an alternative to the keyboard and mouse is required, so Renishaw has introduced the Equator Button Interface (EBI), which works directly with the Organiser software.
EBI uses large push buttons which can be operated by operators wearing gloves. It is not affected by shop-floor contamination and can be mounted on the front of the Equator or on the framework of a table or enclosure. At the most basic level it can be used to start gauging programs, but can also be used to stop those programs mid-cycle, select other programs and navigate the Organiser environment. Equator can be moved using the jog keys if necessary and there are buttons for initial alignment, switching between master/measure modes, changing view screens and easy error recovery.