Installation
Part numbers
There are three MCU joysticks available:
A-5121-0003 - MCU5 kit
A-5331-0015 - MCUlite-2 kit
A-5121-0077 - MCU W kit (does not include batteries*)
*NOTE: The MCU W kit does not include a battery. When placing an order, please remember to include the MCU W battery kit (Renishaw part number: A-5381-0095).
Each of these kits are provided with a 5 metre flexible joystick cable.  Replacement or longer cables are available from your machine supplier or directly from Renishaw.
A-1016-8098 - 5 m cable
A-1016-8099 - 10 m cable
A-1016-8100 - 20 m cable
Connecting the MCU to the UCC controller
The MCU joystick kits include a 5 metre flexible cable provided as standard.  The cable is fitted from 9-pin D connector on the rear of MCU to a 9-pin D connector on the rear of the UCC controller.
Connecting to the UCC2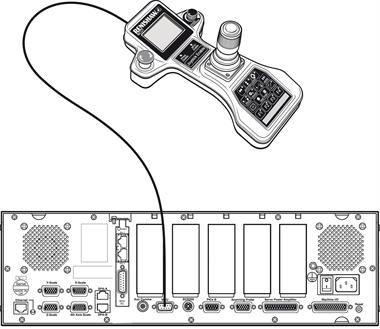 Connecting to the UCC T3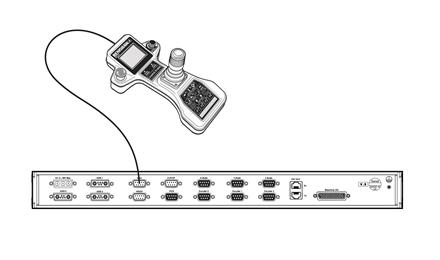 The emergency stop button on the MCUlite-2, MCU5 or MCU W has a dedicated circuit that is fed directly into the rear of the UCC controller.  These connectors are then integrated to the CMM's emergency stop system in the Renishaw servo power amplifiers or UCC controller.  If non-Renishaw servo power amplifiers are used then it is the integrators responsibility to connect the MCU E-STOP switch into the emergency stop system.