Surface finish technical overview
Surface finish is a measure of texture of a surface, reported in Ra (average roughness). The SFP2 probe system brings automated surface finish measurement to CMMs as part of the REVO 5-axis multi-sensor measuring system.
Hardware
The SFP2 system hardware is comprised of a probe, a module holder, a range of modules and accessories to enable automatic interchange of surface finish modules or between different probe types. Calibration and gain setting artefacts ensure that the system is performing at its optimum capability.
Surface finish probe (SFP):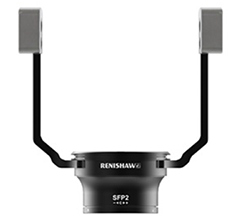 Surface finish holder (SFH):

An additional step during the calibration process is required due to the introduction of the C axis. Initially, the C-axis will be calibrated with the module, whereas calibration of further tools would just require the module and sensor to be calibrated individually.
Surface finish module (SFM):

Software
To utilise the surface finish tool within MODUS that will allow the user to interpret the data collected, a dongle must be updated with the relevant licence.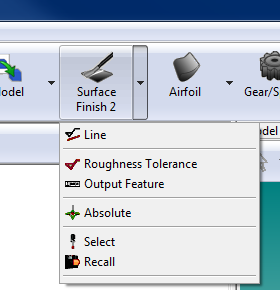 The surface finish drop-down menu offers a few different options in terms of routes to generate the necessary code. The 'line' option will guide the user through all the necessary stages including setting up a tolerance, defining a scan line and setting the correct head angle for the scan.
The 'Set Up Scan Parameters' window allows various parameters to be set, the most important of these being the roughness average tolerance selection. If a tolerance has not already been set up then the user will be prompted to define one.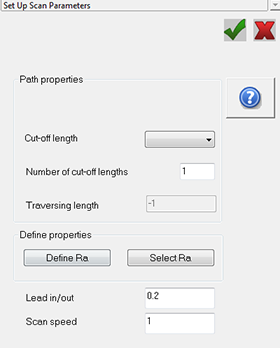 The scan line can be selected using a range of different methods. There are options for selecting directly from the model, defining on the model using a teach function or choosing a line that has been predefined. It is also important to consider the scan direction at this point. When programming the surface finish measurement, the measurement direction must be perpendicular to the lay direction (the direction of the dominant pattern).
In the final window, it is possible to add the necessary moves as part of the set up for the surface finish measurement. The most important option here is the head angle when performing the scan, which is automatically generated as the target A angle. The rotate to scan orientation button allows the user to make the necessary changes to the current head angle.