10th anniversary celebrations for Renishaw's Nordic subsidiary
On 30 May 2013, Renishaw AB, the Nordic subsidiary company of Renishaw plc, celebrated its 10th anniversary.
25 June 2013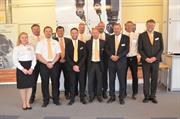 On 30 May 2013, Renishaw AB, the Nordic subsidiary company of Renishaw plc, celebrated its 10th anniversary. To mark the occasion a special open house was held at the Company's office in Järfälla in the Stockholm region of Sweden, where customers and staff were welcomed by senior managers from the Renishaw Group and also received demonstrations of a wide range of the Company's industrial measurement products.
Since opening in 2003, Renishaw AB has almost trebled sales in the region and has grown to 11 specialist staff that support the full range of Renishaw's industrial metrology products, including probe sensors for CMMs and CNC machine tools, calibration systems, position encoders, flexible gauging systems, and a new line of additive manufacturing machines. The Nordic subsidiary also supports Renishaw's Raman spectroscopy systems and dental CAD/CAM products.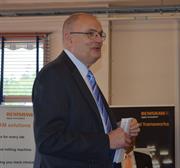 Speaking to guests at the event, Ben Taylor, Renishaw's Assistant Chief Executive, said, "Renishaw is proud to be a supplier of products that help Nordic manufacturers raise efficiency and quality. Firstly through our long-term distributor Mikromess, and latterly through our own subsidiary Renishaw AB, we have been absolutely committed to offering our Nordic customers expert support."
He continued, "There is a high concentration of technical excellence in the region and for example, it is very impressive that a country the size of Sweden makes its own commercial airliners. You show that you have the capability of doing that and we want to be able to support that capability going forward."
Bo Eneholm, General Manager of Renishaw AB, said: "We are very pleased to be able to welcome so many friends and customers to this special celebration. This region has a special significance for Renishaw as the first ever experimental probe application on a machine tool was an unmanned machining line for Swedish company ASEA (latterly ABB) in 1976."
Mr Eneholm and Mr Taylor also used the event to express their gratitude and good wishes to Jan Nilsson, who retires from Renishaw AB at the end of June 2013, and also congratulated Tuula Aval who is celebrating 10 years service. Mr Nilsson has worked with Renishaw products for 30 years, initially with Mikromess and then as one of the first three staff of the new Nordic subsidiary.
All images and text copyright Renishaw
Register for news updates
Register for regular news updates from Renishaw