Additive Manufacturing adds to new products at Southern Manufacturing 2012
Renishaw will be exhibiting its range of additive manufacturing, metrology and encoder systems at Southern Manufacturing from 15th - 16th February 2012, in Farnborough, UK
6 December 2011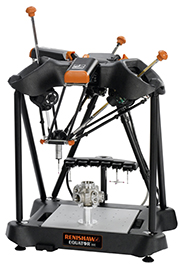 The global precision engineering company, Renishaw plc, will be exhibiting its range of additive manufacturing, metrology and encoder systems at Southern Manufacturing from 15th - 16th February 2012, in Farnborough, UK. Highlights will include Equator™, a new versatile gauge, and the company's laser melting systems.
On stand Q48, visitors to Southern Manufacturing will be introduced to Renishaw's laser melting systems, which utilise a pioneering, additive manufacturing process capable of producing fully dense metal parts direct from 3D CAD, using a high-powered fibre laser. Parts are built from a range of fine metal powders that are fully melted in a tightly controlled atmosphere, in layer thicknesses ranging from 20 to 100 microns.
Also on show will be Renishaw's newest gauging product, Equator, which is a brand new alternative to traditional gauging systems. Its patented low-cost design, unique in construction and method of operation, is capable of high-speed comparative gauging for the inspection of high-volume manufactured parts. Equator is a fast and highly repeatable gauge that operators can use with 'push-button' simplicity. Equator can switch between parts in seconds, perfect for flexible manufacturing processes or accepting parts from multiple machines.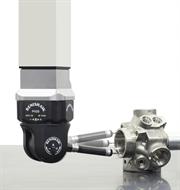 Also exhibited will be the PH20 5-axis touch-trigger system, which increases touch-trigger CMM throughput up to three times, using fast, infinite, rotary positioning and unique "head touch" capability for high-speed point capture with minimal CMM movement. The PH20 uses two-axes of head motion to minimise CMM movement and associated dynamic errors at higher measurement speeds.
Renishaw will also show new machine tool probes with radio and optical transmission. The RLP40 and OLP40 lathe inspection probes offer a choice of signal transmission technologies – radio or optical – to make part set-up and inspection on turning centres accurate, simple and reliable. Measuring just 40 mm in diameter and 58.3 mm long, the highly repeatable probes will help reduce set-up times, scrap, and fixture costs, while improving process control.
Renishaw is also a world leader in position encoders and at Southern Manufacturing, the company will highlight its latest products, including the RESOLUTE ETR (Extended Temperature Range) encoder, which brings all the benefits of the revolutionary RESOLUTE absolute, fine pitch angle encoder to harsh, low-temperature applications. With operation guaranteed down to -40 °C (-40 °F) in non-condensing environments, RESOLUTE ETR is highly suited for use in demanding applications such as telescopes, scientific research and military and aerospace.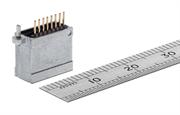 For embedded motion control applications, RoLin™ is a component level non-contact magnetic encoder designed for use as a position control loop feedback element. The system consists of a readhead and magnetic scale or ring, with electronics inside the readhead allowing high interpolation rates up to 13 bits and fault monitoring. A wide range of resolutions is available from 0.244 µm to 125 µm, with speeds up to 40 metres/sec dependent on chosen resolution. Radial or axial reading of the ring is possible, and applications are expected to be for high volume, miniature axes in a wide range of industry sectors.
For more information please visit www.renishaw.com
All images and text copyright Renishaw
Register for news updates
Register for regular news updates from Renishaw