CMM retrofit service launched at Control 2009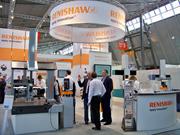 Renishaw announced a series of major new initiatives at Control 2009, including its first CMM retrofit service, and MODUS™, its first metrology software. There was also strong interest in a new probe that allows surface finish inspection within a standard CMM programme, plus the latest linear magnetic encoder technology and a new true absolute optical encoder for rotary and linear applications.
There was a very positive reaction to the new products and services, with many visitors especially pleased that Renishaw is now able to offer a complete CMM measurement package for the first time. 
Cost-effective CMM upgrades
The Control show took place from 5th to 8th May in Stuttgart, Germany, and Renishaw's key message was aimed at manufacturers who are suffering from inspection bottlenecks that tie up staff and expensive machines whilst waiting for vital measurement results.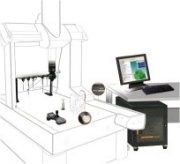 Vistors to the stand saw examples of cost-effective CMM retrofits carried out by Renishaw on a DEA Mistral and Tesa CMM, illustrating the huge productivity gains that can be made by upgrading existing machines. Engineers at the Renishaw stand gave advice about retrofitting a CMM and many visitors, including those with old CMMs, were surprised at the results that can be achieved with a retrofit carried out by a company with expertise in all relevant technologies.
A Renishaw CMM retrofit is available for all budgets and applications, from touch trigger probing and 3-axis scanning, through to the latest ultra-fast REVO® 5-axis measurement system. The company offers a 'one-stop shop' upgrade solution, from its new MODUS metrology software and universal CMM controller, through to sensors and machine calibration.
True absolute optical encoder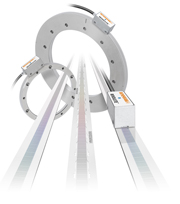 There was also strong interest in Renishaw's true absolute optical encoder system that has excellent dirt immunity, and an impressive specification that breaks new ground in position feedback. RESOLUTE™ is the world's first absolute encoder capable of 27-bit resolution at 36,000 rpm, giving an astonishing market-leading resolution of just 1 nanometre at 100 m/s for both linear and angle encoder applications. Large set-up tolerances enable easy installation and high reliability, whilst low jitter and SDE (Sub-Divisional Error) meet the demands of high precision stages.
Also shown was TONiC™, a new super-compact optical encoder, offering speeds up to 10 m/s and resolutions down to 5 nm for both linear and rotary applications.
News updates
Register for regular news updates from Renishaw
All documents and images copyright Renishaw plc