Design for metal AM - a beginner's guide feature
Design for metal AM - a beginner's guide feature summary
Additive manufacturing (AM) gives us tremendous freedom to create components with free-form and intricate features, direct from CAD and without the need for expensive tooling. These complex designs would be impractical, if not impossible, to produce conventionally. Additive components are often lighter, more efficient and better adapted to their application.

Download the Renishaw guide to design for metal additive manufacturing.
The report guides the AM designer on how to:
Mininise residual stress
Design for best practice orientation
Use primary and secondary supports for AM
Optimisation of the AM part
About the author - Director Global Solutions Centres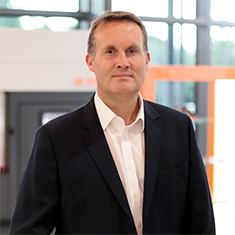 Marc Saunders has over 25 years' experience in high tech manufacturing. In previous positions at Renishaw, he played a key role in developing the company award-winning RAMTIC automated machining platform, and has also delivered turnkey metrology solutions to customers in the aerospace sector.
Marc manages a global network of Solutions Centres for metal additive manufacturing (AM), enabling customers who are considering deploying AM as a production process to gain hands-on experience with the technology before committing to a new facility.