DS30 blue light scanner
Take full advantage of the DS30's fast scanning times and adaptable nature to help streamline your laboratory's workflow and increase productivity.
High speed scanning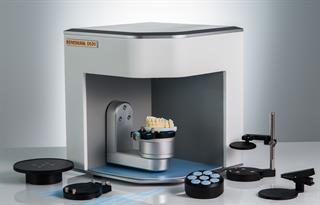 The DS30, based on the Medit Identica Blue™ dental scanner, brings flexibility, speed and accuracy to Renishaw's scanner line-up.
The use of advanced 'blue light' technology allows quicker and more accurate data capture into narrow and deep areas than conventional dental scanners.
Intelligent multi-view allows the selection of the best possible angles to acquire the required data.
Impression scanning is fast and accurate, allowing the digital manufacturing process to proceed without the need of a conventional model.
Multi-die mode allows for the rapid creation of high volumes of shell copings. Where time is of the essence, it is possible to scan and design 8 shell copings with collars in less than 8 minutes.
Features at a glance

Blue light scanning
Full bridge scanning
Abutment scanning pins
Antagonist scanning
Impression + wax scanning
Based on Medit's Identica Blue scanner
DS30 - Overview
Renishaw's DS30 dental blue light scanner showing its flexibility and speed. Coupled with RDS (Exocad), the DS30 is suitable for a wide range of dental lab applications.
All brand names and product names used on this website are trade names, service marks, trade marks or registered trade marks of their respective owners
All products may not be available in all territories, contact your sales representative for further information