Dual Signal interface now available with leading range of incremental encoders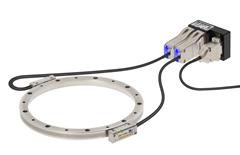 Renishaw's DSi (Dual Signal interface) is now available with its TONiC™ family of incremental optical encoders, bringing even higher accuracy to rotary axes and giving customers a selectable reference mark position via the company's propoZ™ technology.
Using two readheads on an angle encoder improves the accuracy and repeatability of the motion system by eliminating eccentricity, bearing wander and all 'odd' error harmonics. When used with Renishaw's REXM ring encoders, a total installed accuracy of better than ±1 arc second is achieved. The combined TONiC DSi system makes adding a second readhead easy by taking care of the combination of incremental channels and reference mark processing.
Renishaw's patented propoZ technology allows a customer to easily select reference output position with the press of a button. Furthermore, the propoZ output position is angularly repeatable, regardless of bearing wander or power cycling.
The TONiC DSi system can be used with Renishaw's RESM encoder rings in a range of standard diameters from 52 mm to 550 mm (with even larger diameters and custom sizes available on request), or with ultra-high accuracy REXM rings for the most demanding precision rotary motion applications.
As with all Renishaw encoders, the TONiC DSi system is backed by a truly responsive global sales and support network. Furthermore the TONiC and DSi products satisfy the highest environmental standards, with both WEEE and RoHS compliance.
News updates
Register for regular news updates from Renishaw
Editor downloads
Full article
Images
All documents and images copyright Renishaw plc