Framework types
Tooth and implant-supported frameworks from 3D printed cobalt chrome.
LaserPFM™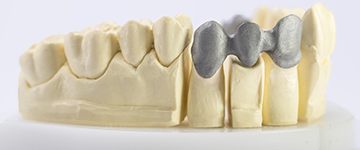 An ideal alternative to cast or machined semi-precious or non-precious crown and bridge frameworks; fixed price per unit and made from traceable CE marked material. LaserPFM frameworks are made by 3D printing, an advanced laser melting process which builds the framework layer by layer.
LinkAbutments™

Available in all materials, LinkAbutments are manufactured to your custom designs  for bonding in-lab to  your chosen titanium base. LinkAbutments are the ideal, cost-effective option for screw-retained or cement-retained restorations.
Renishaw's link abutments are of the highest quality and since we have started using them we have seen our business go from strength to strength.
E Storrar Cosmetic Dental (UK)
All brand names and product names used on this website are trade names, service marks, trade marks or registered trade marks of their respective owners
All products may not be available in all territories, contact your sales representative for further information