Grand opening of Renishaw Canada's new office
The global engineering company Renishaw has formally opened its new offices in Canada.
15 August 2012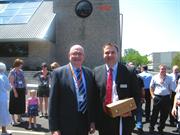 The global engineering company Renishaw has formally opened its new offices in Canada. There were many visitors to the event, who enjoyed good weather, product demonstrations, and a tour of the new facility, which was formally opened by Ben Taylor, Renishaw's Assistant Chief Executive.
The company has been operating in Canada since the 1980s when it began selling through distributors, but it wasn't until 2003 that the first subsidiary office was opened. At this point sales were less than $1m and there were just 4 people at the office. In 2012 the company now employs 11 people, prompting the required relocation to the new site. The facility will also enable the company to demonstrate its range of high technology engineering products on site, providing additional, enhanced customer service and support.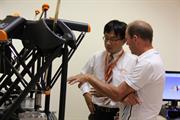 The former TV studio is 17500 sq ft, and situated in Mississauga, the heart of Canadian industry. Renishaw's subsidiary offices are crucial for the company to provide the high quality product support and service expected by its customers worldwide. From 2004 to 2012, Renishaw's sales to Canada grew by 386% and the company is now reaping the benefits of years of commitment to the Canadian market.
During his opening speech, Ben Taylor said: "Renishaw is proud to be a supplier of products helping to raise efficiencies and quality for Canadian manufacturers. We remain extremely confident and excited about our future in Canada and believe that we are well placed to support future growth in this increasingly important market." He went on to thank customers, partners and staff for their support of Renishaw in the region.
All images and text copyright Renishaw
Register for news updates
Register for regular news updates from Renishaw