Healthcare-optimised AM250 metal additive manufacturing (3D printing) system
CAD-driven direct manufacturing systems for a wide range of custom-made healthcare applications
Start manufacturing from day one with the AM250 optimised for custom-made healthcare devices


Healthcare-optimised AM250
Renishaw's AM250 metal additive manufacturing system uses metal powder bed fusion to build complex components direct from 3D computer generated (CAD) designs.
The use of a digital workflow for the generation of dental and medical products is now becoming more common place throughout a multitude of healthcare industries.
Renishaw have developed an optimised AM250 for manufacturing custom-made dental and medical devices, playing on the strengths of additive manufacturing to solve the issues of mass customisation.
Custom-made medical and dental devices are inherently complex parts, with properties that differ significantly from components made by other industries.
A turnkey solution
Metal 3D printing for healthcare
Standard AM250
For more information on the AM250 machine for general additive applications, click on the link.
Completing the digital workflow
Healthcare sectors have typically been early adopters of new technologies, using inventive and innovative solutions to often complex problems.
Dentistry and skeletal reconstruction are no exception and are typically at the forefront of adopting advanced imaging systems such as cone beam computed tomography and magnetic resonance imaging. However the fabrication of reconstructive devices, for example dental crowns or maxillofacial implants, have generally remained a manual, analogue process.
Additive manufacturing allows a complete workflow from the diagnostic scans right through to the manufacture of final restorative device.
An optimsed AM250 completes the workflow, allowing the digital loop to be closed.
3D printed dental devices in practice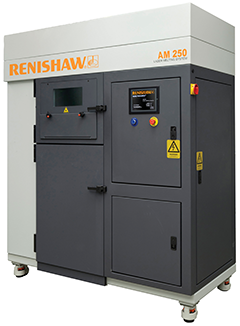 How is the AM250 optimised for healthcare applications?
Optimised density -to aid the production of fully dense parts, specifically in thin wall sections typical of medical and dental parts.
Tuned surface finish - optimum use laser energy to tailor the surface finish to the final application.
Measured accuracy - dental parts typically require accuracy of less than the diameter of a human hair. Renishaw tune the 3D accuracy to reliably allow for this.
Process validation - To enable a reliable process, that does not require further process monitoring
Why choose an optimised AM250
No text books on additive manufacturing best practice
Additive manufacturing is a technology with multiple new applications
Many parameters to tune
Start producing saleable parts from day one
Access process and materials specifically chosen for custom-made medical and dental devices

CoCr DG1 - Cobalt chrome alloy ideal for dental applications
Ti MG1 - Titanium 6Al-4V Grade 23 powder with low oxygen content