Heriot-Watt University hosts Scottish launch of versatile automated gauge
20 July 2011
A unique, new advanced process control gauging system has been showcased in Scotland at a leading industry event hosted by Heriot-Watt University.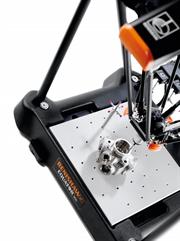 The Equator™- a versatile automated gauging system – has been designed and developed by Renishaw plc, to meet the process control needs of manufacturing companies within a diverse range of industries.
Delegates at the Agile Manufacturing annual conference at Heriot-Watt University - which brought together academia and industry from around the world, to share knowledge and ideas to support business growth and diversity - were told the new system would have a significant impact on the sector.
Equator has been developed as an alternative to traditional dedicated gauging, with the ability to be pre-programmed for multiple parts and re-programmed for design changes. The patented low-cost design, unique in construction and method of operation, is capable of high-speed comparative gauging for inspection of high-volume manufactured parts.
Professor Marc Desmulliez, Director of the Heriot-Watt University James-Watt Institute commented that "We are delighted that Renishaw has supplied an Equator system for our Advanced Metrology Laboratory. Such equipment will increase our research capability as well as increase our interaction with industry. This reflects the strength of the strategic alliance between Renishaw and our university and is testament to the excellent collaborative research links that both institutions have forged with each other over recent years."
Dr Kevyn Jonas, a Director at Renishaw plc, was a keynote speaker at the conference and told delegates: "There is nothing like this product available on the market."
"Equator uses the traditional principle of comparison of production parts to a reference master part, providing repeatable data that results in more efficient and effective operations," he added.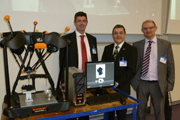 "The Equator has been rigorously field-tested and was positively received when we launched at the Control show in Stuttgart, Germany in May. We were therefore delighted to have the opportunity to show it for the first time in Scotland at the Agile Manufacturing conference."
"Given the extremely positive reaction we have had to the system so far, we remain confident of the significant improvements Equator can make to companies through increased automation and flexibility and we look forward to showcasing the product's abilities further in the UK and beyond."
All images and text copyright Renishaw
News updates
Register for regular news updates from Renishaw