High speed measurement and manufacturing meets the demands of the Autosport sector
At Autosport 2012, being held in Birmingham, UK, from 12th to 15th January, Renishaw will be focusing on its latest metrology products that increase inspection throughput, and its new range of additive manufacturing machines
23 November 2011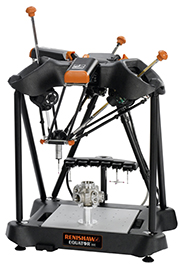 At Autosport 2012, being held in Birmingham, UK, from 12th to 15th January, Renishaw will be focusing on its latest metrology products that increase inspection throughput, and its new range of additive manufacturing machines that allow metal parts to be 'designed today, built tomorrow'.
In hall 9 stand E1035, visitors will be introduced to Equator™, which offers a radical alternative to traditional gauging systems, rapidly collecting thousands of data points which can then be used for the comparative measurement of high-volume manufactured parts. Replacing manual measurement with an automated Equator gauging system can greatly increase throughput and reduce scrap rates, at a fraction of the cost of an equivalent custom gauging system.
Also on show is Renishaw's PH20 5-axis probe for co-ordinate measuring machines (CMMs). The PH20 increases touch-trigger CMM throughput up to three times, using fast, infinite, rotary positioning and unique "head touch" capability for high-speed point capture with minimal CMM movement. It uses two-axes of head motion to minimise CMM movement and associated dynamic errors at higher measurement speeds, whilst its unique "inferred calibration" feature eliminates the need for calibration at each orientation.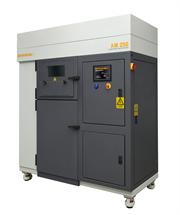 Products from Renishaw's new additive manufacturing product line will also be shown. The AM250 laser melting system utilises a pioneering, additive manufacturing process capable of producing fully dense metal parts direct from 3D CAD, using a high-powered fibre laser. Parts are built from a range of fine metal powders that are fully melted in a tightly controlled atmosphere, in layer thicknesses ranging from 20 to 100 microns.
Visitors to Autosport 2012 who are looking to maintain their CNC machine tools at the highest performance standards, will be interested to see Renishaw's innovative QC20-W wireless ballbar and the company's latest release of its innovative AxiSet™ Check-Up system for monitoring rotary axes.
The QC20-W ballbar is the first calibration tool to allow testing in 3 orthogonal planes through a single reference point. A single, simple hardware set up means quicker testing and the ability to produce a representative volumetric measurement of positioning accuracy, with the added convenience of wireless operation. AxiSet Check-Up is a complementary cost-effective tool for checking the alignment and positioning performance of rotary axes. In just a few minutes, users of five-axis machining centres and multi-tasking mill-turn machines can identify and report on poor machine alignments and geometry that can cause extended process setting times, as well as non-conforming parts.
Also on show will be a selection of Renishaw's incremental and absolute position encoder products, plus latest probe systems for CNC machine tools that reduce downtime and scrap levels by automating setting operations, and also allow part dimensions to be verified on the machine.
For more information about Renishaw products, visit www.renishaw.com
All images and text copyright Renishaw
News updates
Register for regular news updates from Renishaw