Implanting hope
Renishaw's neuro | guide™ Electrode Introducer Kit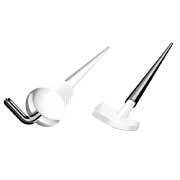 Neurological surgical procedures, such as Deep Brain Stimulation (DBS) used in the treatment of Parkinson's disease, rely on the identification of targets within the brain using medical imaging systems and plotting target co-ordinates and trajectories.
Renishaw's neuro | guide™ electrode introducer kit has simplified the process and significantly reduced the amount of time required in theatre.
Using its extensive experience in identifying the source and levels of distortion in industrial machinery, Renishaw has developed algorithms designed to significantly reduce distortion levels on magnetic resonance image scans used for planning surgery. Moreover, neuro | inspire™ surgical planning software will give additional anatomy identification functions that are designed to provide surgeons with the information they need to identify target brain anatomy, even deep within the brain, with increasing confidence.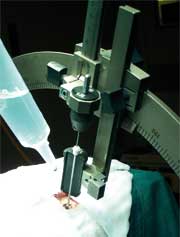 The neuro | guide electrode introducer kit is implanted into the brain to assist in the targeted delivery of DBS electrodes. Traditionally, DBS electrodes have been implanted whilst the patient lay awake on the operating table. The patient needed to be awake to provide the operating surgeon with information about the side effectsof stimulating different parts of the brain whilst they measured signals from it. This type of surgery can take as long as 20 hours, is harrowing for both the patient and the surgical team, and can lead to complications along with inaccuracies in delivering the permanently implanted electrodes.
Using the neuro | guide electrode introducer kit, the surgery can be completed within four hours with the patient under general anaesthetic throughout and further reductions in surgery time are possible when the neuro | inspire surgical planning software is used.
Until recently, at Frenchay hospital, in Bristol, UK, surgical planning had been done manually, which is particularly time-consuming and introduces the possibility of human error.
Professor Steven Gill, consultant neurosurgeon at Frenchay Hospital has witnessed the improvement in surgical technique and, ultimately, patient outcome since he first started using neuro | guide electrode introducer kits. In May 2006 he operated on John Platt, a former teacher to implant DBS electrodes. After undergoing this life-changing surgery, Mr. Platt's wife said, "John is three inches taller! Our lives are transformed; John has so much more independence. I have got my husband back physically and emotionally. The benefits of surgery are continuing to be revealed and it is hard to remember how tough life was and how bleak the future looked."
All images courtesy of NHS.