Improved measurement performance motorised heads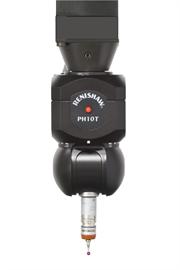 Combined with an optional extended 2-year warranty, the PH10 heads offer CMM users a new standard of indexing head performance, providing reliable precision in even the most demanding measurement applications.
All three variants of the new PH10 heads are now supplied with a revised repeatability specification, down from 0.5µm (2σ) to just 0.4µm (2σ) (specified at a distance of 62 mm), giving users improved positioning at the stylus tip.
Flexible and repeatable CMM probe re-orientation
The improved positioning is especially important in long reach applications such as those using the SP25M scanning probe. This has been achieved by improving the mechanical stiffness of the head design and through enhancements to manufacturing processes. Additionally, the use of the latest surface mount electronics technology gives further improvements to head robustness and reliability.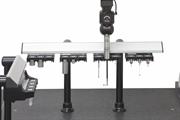 Renishaw's PH10 motorised indexing heads allow flexible and repeatable probe re-orientation during CMM measurement routines. The range comprises three models each of which can carry a range of probes and extensions and can be orientated in 720 repeatable positions, giving access to the most difficult-to-reach workpiece features. The PH10T supports M8 threaded probes such as TP20, whilst the PH10M uses the Renishaw 'autojoint' system to carry complex multiwired probes such as SP600M and SP25M. For machines and applications where a direct quill mount is required, the PH10MQ offers all the functionality of the PH10M. All the range supports extension bars up to 300 mm.
The new improvements combine to provide increased long-term motorised head stability, giving CMM users the option to extend the time interval between calibrations. A further differential is also provided by an all new 'aqua blast' finish which gives the PH10 heads a modern, matt black appearance and clearly identifies the higher specification units.
New CMM heads available through attractive incentive options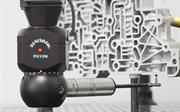 Attractive incentives are being offered to both existing and potential PH10 users. Companies returning an existing head for repair can now take advantage of a special variant of Renishaw's unique low cost 'repair by exchange' (RBE) service, where a new specification PH10 head will be supplied, ensuring minimal down time. It is a quick and simple operation to install the new head, with the CMM up and running after a standard head calibration routine, without the need for specialist commissioning or changes to part programs.
For CMM users who do not currently use a PH10 motorised indexing head, there are also attractive incentives to purchase a new PH10 head through approved suppliers who are participating in Renishaw's unique 'Changers' promotion. A free stylus change rack can be claimed with every new head purchased, subject to each supplier's terms and conditions. All new PH10 heads also come with a standard 12 month warranty, with an additional 24 months warranty cover available at very competitive rates, giving extra piece of mind for this important measurement equipment.
News updates
Register for regular news updates from Renishaw.
Full article
News release: Improved measurement performance with new motorised heads for co-ordinate measuring machines

Following a series of design enhancements, Renishaw's industry-standard family of PH10 motorised indexing heads for co-ordinate measuring machines (CMMs) now have a 20% improvement in repeatability and increased long-term stability. Combined with an optional extended 2-year warranty, the new PH10 heads offer CMM users a new standard of indexing head performance, providing reliable precision in even the most demanding measurement applications.

[140kB]
All images and text - copyright Renishaw