Metrology specialists at Make Measurement Matter Roadshow 2014
22 September 2014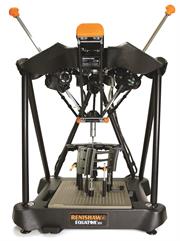 Renishaw, the precision metrology specialists, will be exhibiting at the GTMA's Make Measurement Matter Roadshow 2014, on 16 October in the DW Stadium in Wigan. Renishaw will be showing its Equator™ versatile gauging system, and the PH20 5-axis probe head for co-ordinate measuring machines (CMMs).
Renishaw's Equator is a lightweight, fast and highly accurate versatile gauge that operators can use with 'push-button' simplicity. Equator's innovative flexible gauging technology is based on the comparison of production parts to a reference master part, and users can greatly increase throughput and reduce scrap rates at a fraction of the cost of an equivalent custom gauging system. The system is 'thermally insensitive' through its innovative re-mastering technique, which enables the system to work outside of temperature controlled rooms.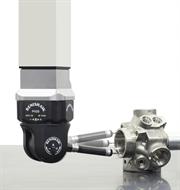 Also on show will be the PH20 5-axis touch-trigger system demonstrated on an Aberlink Axiom too HS 900 CMM. The PH20, which increases touch-trigger CMM throughput up to three times, uses fast, infinite, rotary positioning and unique "head touch" capability for high-speed point capture with minimal CMM movement. It uses 2-axes of head motion to minimise CMM movement and associated dynamic errors at higher measurement speeds. The PH20 system also incorporates a unique "inferred calibration" feature which determines head orientation and probe position in a single operation, eliminating the need for calibration at each orientation.
The roadshow promises to be an interesting event for metrology engineers, with a range of talks taking place throughout the day. Speakers include John Rusted from Humberside Police, who will be presenting on the adaption and adoption of HDS technology in collision investigation; Simon Gough-Rundle, Group Assistant Chief Metrologist and Chief Metrologist for aerospace supply chain at Rolls-Royce; and Phil Cooper from the National Physical Laboratory, speaking about Product Verification.
To register for the event, visit www.makemeasurementmatter.co.uk.
Downloads
All images and text copyright Renishaw
Register for news updates
Register for regular news updates from Renishaw