Microstructures and mechanical properties of Nickel supe ralloy
Summary - Microstructure and mechanical properties of nickel super alloys produced by a RenAM 500Q multi-laser industrial AM system
Multi-laser additive manufacturing (AM) is reducing the cost of AM components, making more applications viable for series production. By adopting flexible build strategies in which several lasers work together, they enable faster build rates than single-laser machines. But it is vital that higher productivity is accompanied by high and consistent quality, so that AM components are suitable for long operating lives in demanding applications. Process parameter development must therefore balance material properties with productivity and adaptability to meets these various needs.
Download the feature article to find out more.
About the author - Director of AM Applications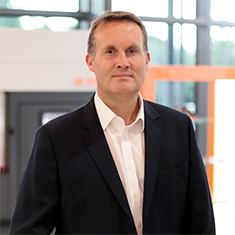 Marc Saunders has over 25 years' experience in high tech manufacturing. In previous positions at Renishaw, he played a key role in developing the company award-winning RAMTIC automated machining platform, and has also delivered turnkey metrology solutions to customers in the aerospace sector.
Marc manages a global network of Solutions Centres for metal additive manufacturing (AM), enabling customers who are considering deploying AM as a production process to gain hands-on experience with the technology before committing to a new facility.