New 18-bit absolute magnetic ring encoder
29 November 2013
Renishaw's associate company, RLS d.o.o. has announced the availability of the new AksIM true-absolute magnetic rotary encoder for embedded OEM motion control applications. Available through Renishaw's worldwide network, AksIM has up to 18-bit resolution and zero mechanical hysteresis in a unique through-bore configuration which sets a new standard for magnetic encoder performance and value.
Designed for cost-conscious OEM motion control applications
AksIM comprises a low-profile encoder readhead and a separate magnetic ring with an impressive price-performance ratio. The readhead is available either in a fully sealed IP64 housing or as a board level encoder, supporting a range of data output formats including serial RS422, CAN, SSI, PWM, I2C, SPI and USB with binary resolutions to 18-bits per revolution and speeds up to 10 000 rev/min. AksIM is a true-absolute encoder (no battery backup required) meaning that position is determined immediately at power-up, thanks to a unique single track code embedded in a corrosion resistant ring.
Increased performance with built-in self-monitoring function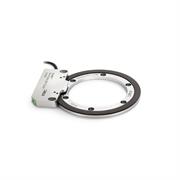 AksIM features an integral set-up and diagnostics LED, providing intuitive indication of signal health. The readhead also includes self-monitoring functionality, with the capability to report warnings, alarms or other status signals to the drive / controller via the communications interface.
AksIM is suitable for a diverse range of motion control applications, including robotics, pan-tilt / azimuth-elevation platforms, automation systems, and medical equipment.
RLS is a world leader in the development of high performance magnetic encoder feedback solutions and together with its associate company, Renishaw, offers worldwide sales and technical support.

Downloads
All images and text copyright Renishaw
Register for news updates
Register for regular news updates from Renishaw