New Raman imaging brochure
New Raman imaging brochure available for download now!
7 November 2011
inVia Raman microscope imaging capabilities: from points to areas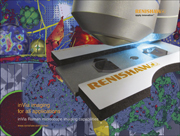 You can make manual measurements of points on your sample, but the true power of Renishaw's inVia Raman microscope and its Windows‑based Raman Environment (WiRE™) software is revealed when you use its mapping and imaging capabilities.
Rather than just viewing discrete spectra, you can create information-rich maps and images that fully illustrate your most complex samples.
You may have a wide range of sample types, sample sizes, and resolution requirements, but inVia can handle them all. With not just one technology but three—point mapping, StreamLine™ Plus, and True Raman Imaging™—you know you can get the job done.
inVia Raman imaging for all applications: download your copy of our new brochure now!
Brochure download