New technology will boost North Bristol Trust's neurosciences service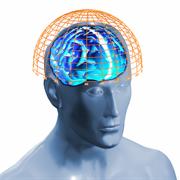 Cutting-edge robot technology that enables neurosurgeons to deliver sophisticated neuro-implantable devices with pinpoint accuracy will soon be in place at the UK's North Bristol NHS Trust.
The Friends of Frenchay Hospital have agreed to provide the £270,000 funding for the neuromate® surgical robot made by Renishaw plc. In addition to this, they are going purchase a new surgical planning station which will replace the manual method that has been relied upon for Deep Brain Stimulation cases in particular. 
Surgical robot applications include Deep Brain Stimulation treatments
After an extensive evaluation period, the neuroinspire™ planning station has been specifically optimised to support the image-guided approach that has been pioneered by the neurosurgical team at Frenchay.
This new planning station will eventually work seamlessly with the neuromate® robot. In all, this represents a donation in the order of £300,000, a landmark donation for the Friends of Frenchay to the hospital, and a tremendous boost to the pioneering neurosurgical team.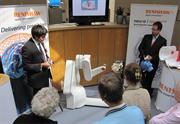 The neuromate® surgical robot will contribute to the hospital in two ways: (1) in the delivery of advanced treatments such as Deep Brain Stimulation where the team will be able to build upon its established international reputation; (2) it will enable clinicians to pursue cutting edge research leading to life-changing and life-saving therapies in the area of convection enhanced drug delivery for diseases such as brain tumours, Parkinson's, Alzheimer's and Huntington's among others.
Precision guided neurosurgery
The neuromate® stereotactic robot is part of a strategy to contribute to current and emerging therapy technologies such as Deep Brain Stimulation (DBS) and intraparenchynal delivery of next-generation therapeutics. Precision-guided neurosurgery helps clinicians to meet the twin challenges of developing life-enhancing therapies that are both safe and efficient.
On Thursday, August 6th, Neurosurgeon Professor Steve Gill and representatives from the Friends of Frenchay travelled to Renishaw's headquarters in Gloucestershire, UK to see the neuromate® neurosurgical robot for themselves.
The machine has a robotic arm which can be positioned above a patient's head, providing a trajectory along which surgical instruments (a neuro endoscope, for example), or neuro implants (deep-brain-stimulation electrodes or catheters) can be accurately introduced into the brain.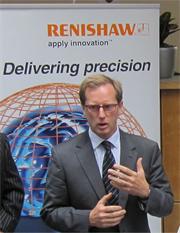 Professor Gill (pictured right) said: "The machine will aid the delivery of catheters into the brain with an accuracy that no human could achieve. Moreover, we shall be adopting this precision robot for current deep brain stimulation procedures quite soon as well as for other procedures where we can exploit its accuracy and repeatability which affords the neuromate® system the potential for its enhanced safety.
"I am so grateful to the Friends of Frenchay for this generous donation. With this new piece of technology, Frenchay Hospital will be able to build on its reputation as a world-leader in neurosciences."
Frenchay will be the first hospital in the South West – and one of only a handful of centres in the world – to use the this technology which is being enhanced in partnership with engineers at Renishaw.
"What makes this even more special is that we are working with a local company to develop the robot for our needs and the needs of functional neurosurgery more widely," added Professor Gill.
The neuromate® robot opens the door to new procedures being offered in the Southwest of England, where the limited capacity of epilepsy and neuroendoscopy surgeries have sometimes been obstacles to their wider availability.
The neuromate® robot has been used internationally in thousands of electrode implantation procedures for Deep Brain Stimulation (DBS), and Stereo Electro-Encephalography (SEEG), as well as Motor Cortex Stimulation (MCS), neuro-endoscopy, radio-surgery, biopsy, and Transcranial Magnetic Stimulation (TMS).
Read more about Renishaw's advanced engineering solutions for stereotactic neurosurgery.
News updates
Register for regular news updates from Renishaw
Editor downloads
News release: New technology will boost North Bristol Trust's neurosciences service

Cutting-edge robot technology that enables neurosurgeons to deliver sophisticated neuro-implantable devices with pinpoint accuracy will soon be in place at the UK's North Bristol NHS Trust. The Friends of Frenchay Hospital have agreed to provide the £270,000 funding for the neuromate® robot made by Renishaw plc. In addition to this, they are going purchase a new surgical planning station which will replace the manual method that has been relied upon for Deep Brain Stimulation cases in particular.

[143kB]
All documents and images copyright Renishaw plc