New ultra-compact inspection touch probes for lathes and turning centres
Measuring just 40 mm in diameter and 58.3 mm long, the probes provide uni-directional repeatability of 1µm and can be used to reduce set-up times, scrap, and fixture costs, while improving process control. Both designs are hardened and sealed to IPX8 to withstand the extreme environments typical of lathes and turning centres. A proven eyelid protection system prevents entry of swarf and chips that could damage probe internals.
Robust probe signal transmission
The RLP40's unique frequency-hopping spread spectrum (FHSS) radio transmission pairs with the standard Renishaw Radio Machine Interface (RMI) and utilises the 2.4GHz frequency band. The probe and its interface continually hop from one transmission channel to another, delivering unrivalled signal robustness and flexibility through frequency switching. Radio transmission allows continuous communication between the touch probe and the interface, even when line-of-sight is lost.
Use two touch probes on one machine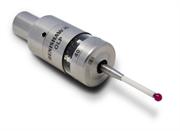 The OLP40 uses modulated optical transmission for high resistance to light interference, and its 360-degree transmission systems allows the probe to operate in any orientation. It also works with Renishaw's legacy transmission systems, while two touch probes can be used on one turning centre when the OMI-2T interface unit is used.
Maximum application flexibility
A wide range of shanks is available, including parallel and tapered designs, for maximum flexibility when mounting the probes in a lathe or turning centre turret. RMP40M and OMP40M "transmission-only" modules are also available to allow the use of Renishaw's LP2 family of touch probes and accessories in order to reach part features that would otherwise be inaccessible.
Renishaw's range of tool setting probes, inspection probes and probe software satisfies a wide range of machine tool probing applications, from setting of tools and workpieces to process control and on-machine verification.
News updates
Register for regular news updates from Renishaw
Editor downloads
News release: New ultra-compact inspection touch probes for lathes and turning centres

Renishaw's new RLP40 and OLP40 lathe inspection probes offer a choice of signal transmission technologies, radio or optical, to make part set-up and inspection on turning centres accurate, simple and reliable. Measuring just 40 mm in diameter and 58.3 mm long, the probes provide uni-directional repeatability of 1µm and can be used to reduce set-up times, scrap, and fixture costs, while improving process control. Both designs are hardened and sealed to IPX8 to withstand the extreme environments typical of lathes and turning centres.

[138kB]
All images and text - copyright Renishaw